Archive for the 'Northway Church' Category
Alright…Here is the second video! This one features our interactive glow stick video that we played. Every student had either a red, blue, green, or yellow glow stick and had to follow the on-screen instructions!
At the end of the video, there are some UNITED LIVE pictures, and part of a song played by our awesome student band! (Unfortunately some of the video feed for the band wasn't working)
The next video will be the entire message by Aaron Cavin!!!
Do you want the glow stick video?? Let us know and we can make it available for you to use in your ministry or event! The video below is off center, but we can give you the HD full screen version.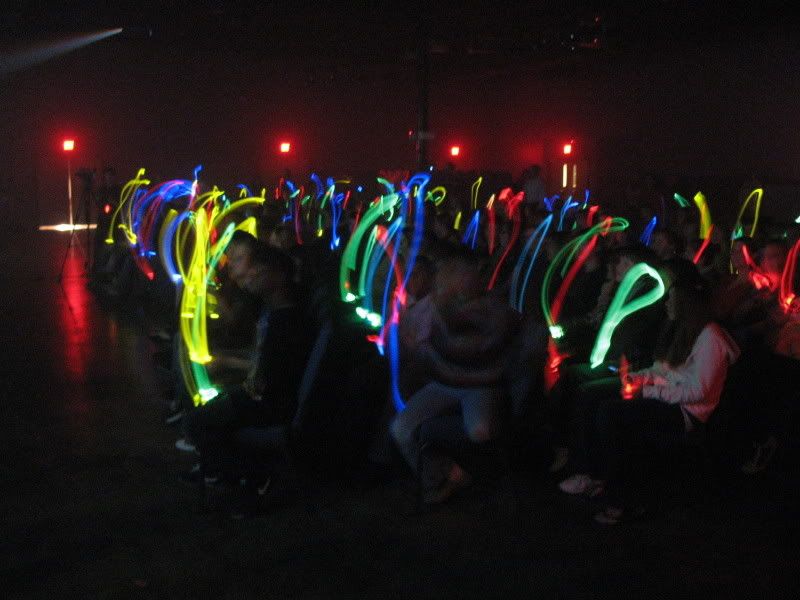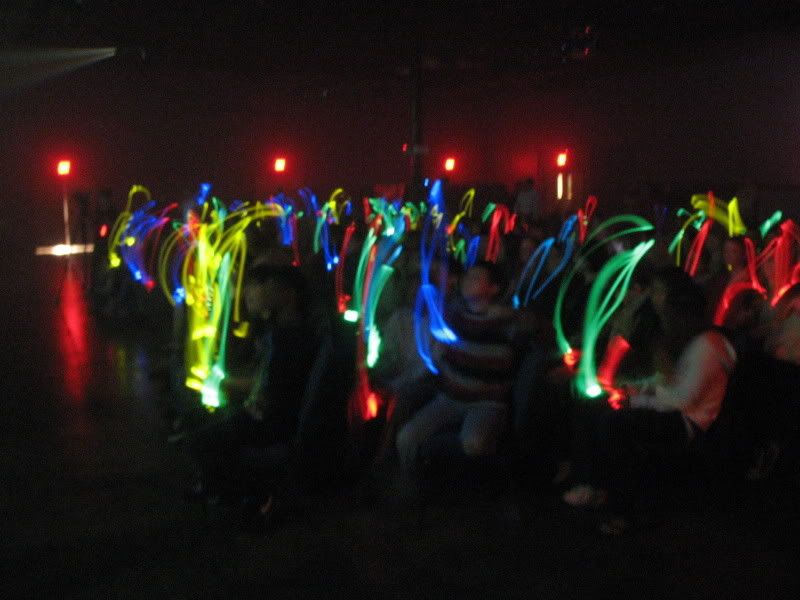 Okay…Between today and tomorrow. I am going to be posting three videos from UNITED LIVE this past Wednesday. One will be the entire message from Aaron Cavin. Many people have been asking about it!
I have entiteled our first one here, "A Very Nerdy Perry". In this video, Perry, one of our awesome adult leaders comes out to promote our next UNITED LIVE theme, which happens to be our Christmas party! (He is not really nerdy in real life!)

December 10th is our next UNITED LIVE! What? I thought that December 3rd is the first Wednesday of the month! You are right, but we had to switch it to the tenth of December for reasons outside of our control.

The theme for our December 10th Christmas party is…watch the video! No, "watch the video" is not the theme. I mean "watch the video" to find out what the theme is. Work with me here…

***DISCLAIMER*** – Any video posted on here was most likely edited and put together by myself, which means it is extremely amature. They do not in any way reflect the awesomeness of the videos that our church production team puts together. These are not official videos of Northway Church. If they were, then you would be able to tell. haha…Ok?

Last night was by far the best UNITED or UNITED LIVE yet! Everything just seemed to flow extremely well and God's hand was on the night in a very special way.
Aaron Cavin was our special guest speaker and he brought it! We had students flowing to the front at the end of the service to pray with our adults leaders. Many students chose to accept Christ into their life! This is why we do what we do!
Our adult leaders and student leaders are amazing! We are taking Northway Student Ministry to the next level!
————————————–
I will post a video from last night soon, but here are a few pictures to get us started!
Cool effect…
Got everyone to sign up for Twitter live from the stage…
vistit www.twitter.com/northwayUNITED
Did a cool interactive video with glow sticks…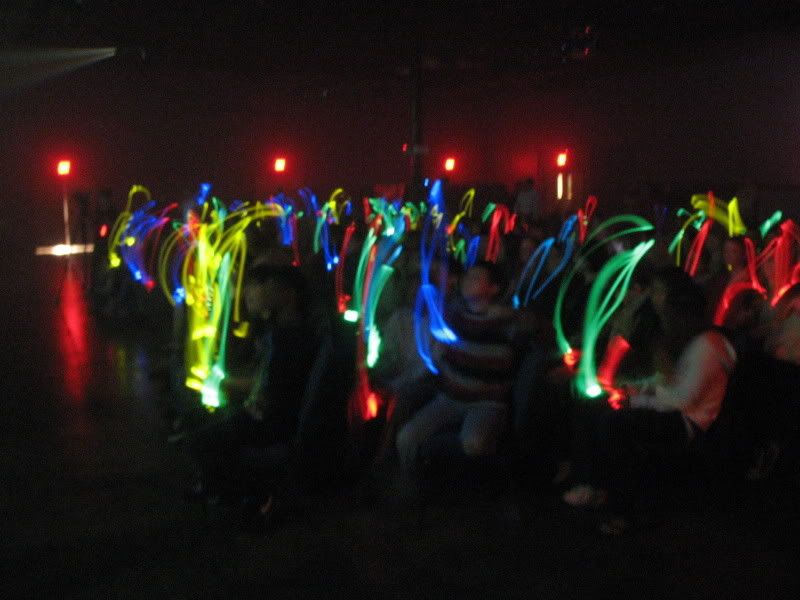 Last night was the best that our student band has ever done! God used them big time!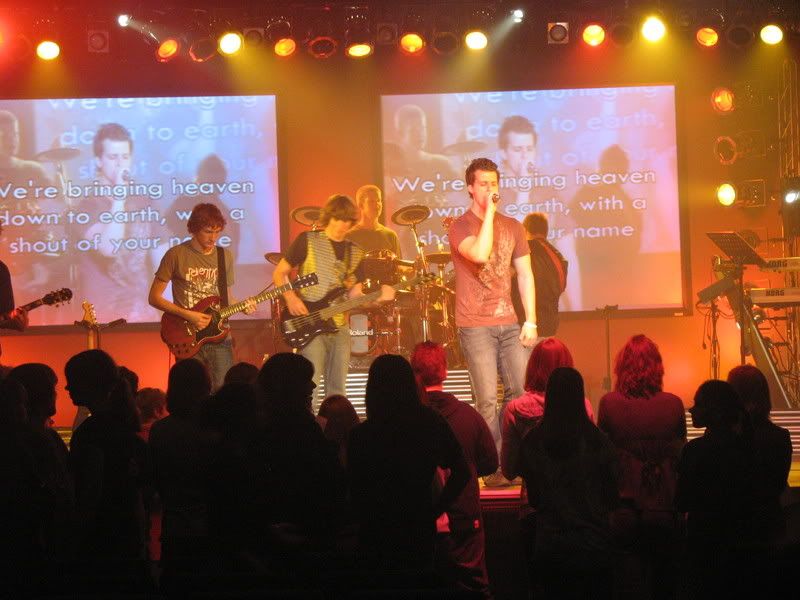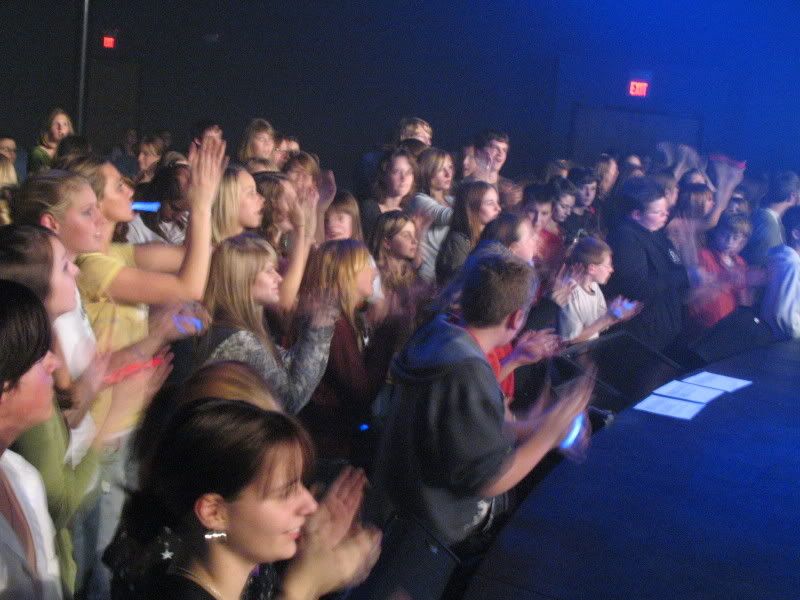 And of course…Aaron Cavin!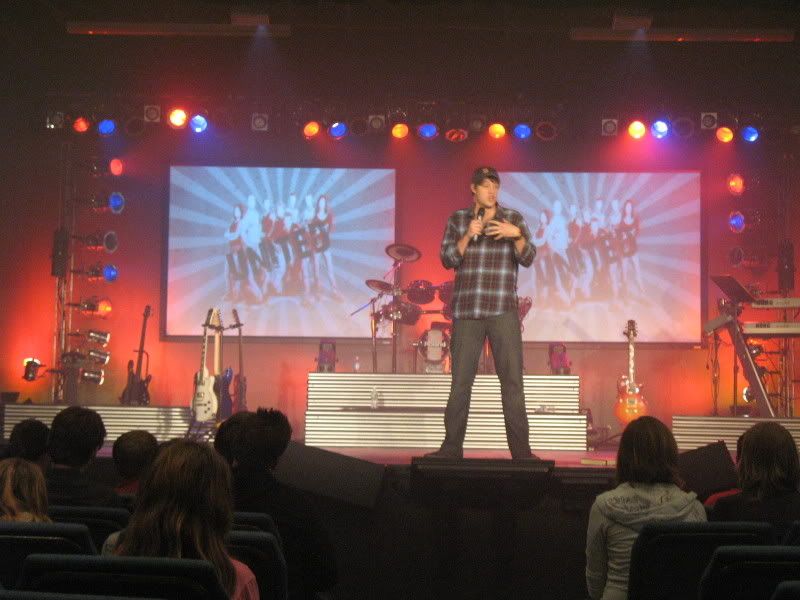 And a final picture to send you on your day…This is what we call "mouse bread"
Yep…that's right! Two years ago today, Leah and I were packing up an over sized Uhaul truck (they didn't have the small ones) getting ready to make the trip form Long Island to the Capital Region of New York!
Was scared…didn't have a job lined up…only knew like three people…but soooo happy because we knew it was what God wanted us to do!
Let me give you some context…
I had been a student pastor, children's pastor, and production director in (or on?) Long Island for four years. It's the same state but a whole different world down there! (In a good and bad way

)  I had moved down from Boston (love that city) the week after I graduated college. Leah still had one more year in school. She was so young! haha She ended up moving down after she graduated. Then…we got married!!!
Anyway, to make a long story short, we knew for various reasons that it was time to move out of that area. We had built a thriving student ministry, loved the people, but knew that God had something else for us.
All throughout my years on (or in?) Long Island, I heard about a brand new church in Malta, NY that was doing some amazing things for God. After all, my roommate in college went there at the same time that I went to Long Island. He had been trying to get Leah and I to move up there the whole time. As I began to learn more about this thriving church in Upstate, NY, we felt God moving. We were right in line with this church's philosophy of ministry, it's dream to reach the Northeast, and so much more.
I know it sounds weird, but without ever even visiting an actual church service, we packed everything up exactly two years ago and moved up here to go to Northway Church. I got a sales job within a month, and dived in to help wherever I could at Northway. Leah was able to transfer her job up here. We had no idea what was in store for us. Within seven months, I found myself on staff as the student pastor.
Sometimes it is scary doing what God wants you to do. It was a sacrifice full of a lot of the un-known, but as Leah and I look back and see what has taken place in the past two years, we are so happy! We are where we know God wants us to be! We love Northway and the people! Pastor Buddy is one of the best communicators in America, an incredible leader and has such a contagious vision for Northway and the Northeast! We truly do have a front row seat to what God is going to do here and the rest of the Northeast!
Leah and I can't wait to see what God does here in another two years!!! I'll blog more about our transition up here next week! Lot's of funny stuff happened…
————————————
AND NOW FOR SOME OLD SCHOOL PICS…
Here's a pic of us in 2003… I have morphed into a different person or something…

And my broken arm…Not really, but I did make a girl puke and one of my adult leaders not talk to me for a month. I was a rookie…

And Leah getting into way too much trouble…
And me licking the green paint off of my face? Must of had lead in it. And it was at a kid's event…
Please join us in prayer and fasting for Eliana Clem! Eliana was born on Sunday and is in need of major surgery! As I write this (6:00 am), they are preparing for the surgery.
Please CLICK HERE to follow Chad and Leah Clem's updates. You can also view Chad's Twitter updates on the top left side of his blog.
——————————————
God, I ask right now for Your mighty hand of protection and healing for Eliana! Please be with the thoughts, words, and actions of every person that comes in contact with her. I pray for a successful surgery, and a quick recovery. Please fill Chad and Leah and their families with the peace that only You can give. We know that only You see the future and we thank You in advance for however You choose to answer our prayers. Amen.
This three day weekend is going to be crazy, but amazing!
Here are the main highlights…
- Brian and Libby are going to have their baby! Avery will enter our world! Check out their blogs and show them some love! Their updates and posts are like watching a month long movie!
- Leah's family is coming in for the weekend. The apartment is clean (well, it's always clean, which is a story for another day), the groceries are bought, and we are awaiting their arrival any minute! She has three young brothers so all the "cleanliness" will be in vein, but oh well. Any good ideas as to where we can take them?? Fall stuff??
- The Creative Church Conference (C3) with Ed Young is on Monday!!! I can't wait to connect with so many people that I know are coming! I honestly do not know why any leader in the Northeast would miss this! Actually, I don't know why any Christian in the Northeast would miss this. Check out a video HERE. Click the link! Click the link! Click the link! (Sorry…I have a twitch)
UNITED and UNITED LIVE is growing with each event! Many students start coming right after school and are staying til the very end when I'm kicking them out on the curb. It's awesome!
I had the pleasure of speaking last night at UNITED LIVE! Since camp, I've been burdened about all of the baggage that students carry. Adults too! PEER PRESSURE – EMOTIONAL PAIN – BETRAYAL – FAMILY CRISIS – WORRY – SIN. You name it, and it's something that students are dealing with. 
We all start out our lives with everyone loving us caring for us. Everyone thinks your just adorable. Then…all of a sudden, someone says "I don't like you" or "You're stupid" "You're worthless". Someone that you trust betrays you. The sin in your life starts spiraling out of control. We are left carrying baggage. Baggage is the stuff that is keeping us from being effective for God. We all have baggage. You do. I do.
So what do we do? We try to just conform. We ignore it and just accept the weight as just being what your life is all about.
You start walking around thinking…"I'm not good enough" "No one loves me" "I can never trust anyone ever again" "My life is messed up" "I can never have God's best for me".
At that point, we either go in one of two directions.
1. We believe a lie and self-medicate to cover or ignore the baggage. This is where cutting, alcohol abuse, drugs, bad attitudes etc… come in! Nothing ends up working and you are left with this weight and you can't handle it anymore. You are ready to BLOW UP!
We scream…WHERE IS GOD? WHY HAS HE FORSAKEN ME? I GAVE MY LIFE TO GOD BUT I'M STILL CARRYING THIS WEIGHT AND BURDEN. I CAN'T GO ON LIKE THIS!
2. We seek truth.
God has been saying all along, "Are you tired? Worn out? Come to me. Get away with me and you'll recover yur life. I'll show you how to take a real rest. Walk with me and work with me…watch how I do it. Learn the unforced rythms of grace. I won't lay anything heavy or ill-fitting on you. Keep company with me and you'll learn to live FREELY and LIGHTLY!! (Matthew 11:28-30)
God is telling us that he wants to take our baggage and give you the life that you can only have through Him! Jesus said, "The thief is there to steal, kill, and destroy. I came so they can have real and eternal life, more and better life than they ever dreamed of. (John 10:10) 
Now you can scream…I DON'T HAVE TO LIVE THAT LIFE! I AM NOT WHO THEY SAY I AM, I AM WHO GOD SAYS I AM! I'M NOT GOING TO BELIEVE THE ENEMIES LIES, I'M GOING TO BELIEVE TRUTH! I'M NOT GOING TO BE AFRAID ANYMORE! I CAN KEEP MY HEAD UP HIGH!
God's grace reaches to the darkest places of our lives.
What is your baggage? Are you willing to let it fall so you can live freely and lightly?
Tomorrow, I'm going to write about why so many Christians still have this weight even though they have accepted Christ.
Below is a great article for parents of teenagers, or really for any parents! It's worth the long read. It was written by Les Christie, who is a parent and someone who works with students.
—————————————
POSITIVE DISCIPLINE VS. NEGATIVE DISCIPLINE
Discipline that focuses primarily on punishment as a way to get a young person to behave properly is what's often called "negative discipline." A negative disciplinarian threatens, frightens, snarls, growls, bristles, and becomes just plain nasty in order to persuade young people to behave. Even if this kind of external pressure gets immediate results, when the pressure lets up, so does the person's response. Negative discipline usually backfires.
Negative discipline can destroy a young person's sense of being loved and wanted. It can leave him feeling insecure and worthless. Negative discipline implies getting even, retaliation, vengeance, and exacting a penalty. Of course, all these dangers are increased whenever negative discipline is cruel, unreasonably severe, or prolonged.
Guilt is another common motivator in negative discipline. But using guilt to get your teen to do something is destructive. Guilt is a tremendously difficult feeling to carry around inside. And even if your young person does change her behavior because she feels guilty, she will resent it; that resentment, coupled with feelings of guilt, can produce intense feelings of anger.
Negative discipline can help control some behavior by establishing an avoidance response. But negative discipline alone never teaches young people to be responsible, motivated, and cooperative. Any improved behavior due to negative discipline simply means the young person has realized that, in this situation, the cost of negative discipline outweighs the benefits of misbehaving. The young person may change the way she behaves, but not change the way she wants to behave.
I've heard that you can train fleas. Apparently, if you throw some fleas in a jar and put the lid back on, for a few minutes you will hear a popping noise. The fleas will jump from the bottom to the top, and their little bodies will crash against the lid for a few minutes. Eventually, they will get wise and won't jump as high–they'll jump to a height just beneath the lid. (After a while, even a fl ea realizes hitting its head on the lid isn't much fun). After a few hours of this, you can unscrew the lid, and the fleas won't jump out. They have the ability to jump higher than the top of the jar. But something tells them if they jump too high there will be pain. In the same way, negative discipline may make a teenager behave the way you want him or her to just to avoid pain. But inside, nothing has changed.
The problem with negative discipline is that it's effective only as long as the threat hangs over an individual's head. Negative discipline does not teach the long-term benefits of changing behavior. When the threat of negative discipline has been removed, people are likely to resume their inappropriate behavior again. Consider how people tend to drive when they know a police officer is sitting beside the freeway with a radar gun. As long as that police car is visible, most people will carefully stay within the speed limit. But some of those same people are willing to drive at unsafe speeds if the police aren't visible and they think they can get away with it. Negative discipline procedures make the adult youth leader a police officer in the youth group.
Negative discipline may curb some unacceptable behavior. But negative discipline in itself does not teach or motivate a young person toward more desirable behavior. It tells a young person what not to do–it doesn't tell him what to do. Consider our prison system. If punishment were effective in teaching people better behavior, then nearly anyone released from prison after several years of incarceration would go straight from then on. But a recent study showed that more than two-thirds of released prisoners were arrested again within three years. Of course, there are all kinds of reasons why someone who has been imprisoned is more likely to end up there again. But that doesn't change the basic fact that imprisonment merely keeps a person off the street for a period of time; it does very little to encourage rehabilitation or true changes in thinking and behavior.
On the other hand, positive discipline involves a combination of encouragement, consistency, fairness, and high expectations to train young people. A positive disciplinarian uses words, deeds, or circumstances to develop maturity in the young person–which is the ultimate goal of youth ministry. (See Colossians 1:28.) Our task is to prepare, disciple, and train young people to serve God with their lives, to bring them to maturity, wholeness, and completeness in Christ. Through positive discipline, we develop mature young people who know themselves, accept themselves, and control themselves.
Positive discipline is more an attitude and atmosphere than an action. It is a tool, not a weapon. It is an expression of love, not anger. Discipline in the true biblical sense is positive and encouraging–in fact, it's even proof of love.
Too Little Discipline or Too Much?
Some adults believe it's a mistake to teach young people self-control. They believe it's best to stand back and allow teenagers to find their own paths and make their own mistakes, rather than offering them firm guidance. While I disagree with this type of thinking, I understand what motivates it. Young people need to express their independence, but our attempts to control and micromanage every moment of their lives really can make things worse. Too many rules and get-tough leaders off end kids and run them off.
However, the hands-off, anything-goes approach is equally disruptive. A teacher who has a laissez-faire approach loses kids. When the kids who've left the group are asked why, they often say they've stopped attending because the class was so wild and chaotic. Not all kids care for the loud, obnoxious behavior of their peers. Chaos might be fun for a few minutes, but not forever. Kids want order for the security and safety it gives them.
This hands-off style is common among adult youth leaders who fear they'll lose the kids' friendship if they react any other way. But the anything-goes approach carries a number of negative attributes. Think about what happens when a leader doesn't seem to notice or care about the disruptive noise from the group:
- It teaches kids it's okay to talk when someone else is speaking.
- It offends the kids who want to listen but can't because of the noise.
- It says: "This is competition. May the loudest or longest talker win."
If we want an environment that attracts kids and encourages good behavior, we have to fall somewhere between the two extremes. We're not called to be watchdogs, drill sergeants, or undercover cops, but we're not called to roll over and play dead, either. We don't need to be authoritarian, but we do have to be authoritative. We can't be permissive, but we have to be sensitive to everyone's needs. Kids need a comfortable environment free of excessive control, but some control must remain.
Some Dos and Don'ts of Discipline
Fair and reasonable discipline is like a fence that provides protection and defines limits, demonstrating both care and concern. Like a good fence, our discipline needs to be strong enough to do the job for which it was intended, but flexible enough to account for unexpected situations and different kinds of kids. (Don't forget that some young people require more discipline than others–that's just the way teens are.)
To be an effective youth leader / fence builder, here are a few "dos and don'ts" to keep in mind:
- Do make sure youth group members know where the fence is. Kids need to know where the boundaries are. As long as they stay within the defined boundaries, discipline is not necessary.
- Don't make your fence so wide that young people can do virtually anything they want and still be within the boundaries.
- Don't build the fence so tight that there is no room for the youth group members to breathe or so close that it stifles creativity. Trying to maintain a tight fence that is suffocating requires almost constant vigilance and often leads to constant discipline situations.
- Do make sure your fence boundaries are appropriate for the age and temperament of your group members. Limits should be redefined as young people mature.
I don't know of any young person who doesn't want to know where the boundaries are. There is security in knowing the limits. Young people don't want to have the boundaries hammered on the door of their youth room like Luther's 95 theses. They don't want to hear the rules recited every morning when they awaken. But they do want to know that there are rules and that they will be enforced.
Giving a young person complete freedom and license is recognized today for what it is–a grave mistake. It places too much responsibility on young shoulders that are not yet ready to carry that burden. The weight of responsibility can be crushing. But too much discipline can have a very similar effect, giving the young person a feeling of failure. Again, the burden is too heavy to bear.
I can't wait for Octber 13th when
Ed Young
comes to
Northway
!
His popular Creative Church Conference (C3) is going on the road and coming to our Clifton Park campus. This is such a great thing for the Northeast. It's a great day for so many leaders to come together and be strengthened and encouraged!
Whether you're a pastor, church staffer, church member, or whatever, then you should come! It's worth taking the day off, changing plans, walking up a hill barefoot in the snow, or whatever needs to be done so that you don't miss out on this historic event in the Northeast. God has placed Northway Church here in the Northeast for a reason. God has given us a leader that has a contagious passion and dream for reaching the whole Northeast for God. I have lived in the Northeast for my whole life, and I too share that dream! I believe there is a great change that is about to take place for God. I believe that October 13th will help UNITE leaders and take that to the next level.
Don't miss out! Are you going to be here? CLICK HERE to register.
————————————————————
Also don't forget…
UNITED is tonight at 6:30pm in Clifton Park for 6-12 graders!! Don't miss it! It's going to be amazing!
We will reveal some plans for when we split Middle School and High School!
We are inviting any High School students to come to the church after school to help set-up and just hang out! Bring your homework too! I hope you can make it!
Don't forget that next Wednesday is UNITED LIVE! (October 8th)
We had an amazing kick-off to the school year with our first UNITED last week! Over 20 students accepted Christ into their lives! God is doing some incredible things here at Northway Church and His favor is on this next generation! We are so excited to see what is going on in Northway Student Ministry (NSM)!
As most of you know, we have made some adjustments from last year that are going to help us do even more!
Here are some of the highlights of what you can expect:
- UNITED is EVERY Wednesday night at 6:30 pm, with an extra big UNITED on the first Wednesday of the month!! The once a month "big UNITED" is going to be called UNITED LIVE! (UNITED LIVE in October is going to be October 8th, which just happens to be the second Wednesday) Make sense?
- This means that the next UNITED is tomorrow night, September 24 at 6:30 pm in Clifton Park. The next UNITED LIVE is on October 8th!
- We are opening up a new atmosphere at UNITED LIVE on October 8th, that will feature a "High School Only" section! Trust me…It will be awesome! It will be a more relaxing place for them to be able to hang out with their friends!
- We will also be splitting Middle School and High School for UNITED in October, and then bring them back together for UNITED LIVE once a month.
- In the near future, we will be offering some breakout sessions at UNITED for any students that want to sign up for them. More info to come soon!
I know this is a lot of information right now, but I hope that you can get behind NSM as we move forward in encouraging this next generation to be the best generation for God in all of history!
We brought over 130 students to camp this past summer and so many of them have changed lives! Many of them did not want to go to camp, but their parents got them on the bus anyway! ALL of those students came home thanking their parents! We want to encourage you (parents) to do the same with UNITED. Get them here and let God do the rest. They are worth it!
If you are a parent, then you will be receiving a letter in the mail shortly from me with some of this same information. If you have any questions at all, then please let me know! You can email me anytime at kmurrell@northwaychurch.tv. I would love to answer any questions that you have.
I'm praying for you and your family!