Archive for the 'Student Ministry' Category
————————————————————
Don't miss this weekend at Northway Church as we continue our Christmas Illusions Series with special guest BJ Harris! BJ is a nationally know illusionist who has performed at places such as the Catalyst Leadership Conference and Andy Stanley's North Point Community Church in Atlanta, GA.  His performances have amazed audiences across the country, and we are honored to have him as our special guest this weekend.  It's a great time to invite your friends!
———————————————————–
Pastor Buddy has been talking a lot about changing our focus, turning sorrow into joy, and helping others this year. This has really hit Leah and I hard! How can we turn any "trouble" into joy?
Let me tell you a little story:
Leah and I are not going to be able to travel this year for Christmas and we were pretty bummed about it… at first. Leah and I have never missed our on visiting both of our parents over Christmas since we met as teenagers. The thought of not going anywhere for Christmas made us feel trapped. The closest family is three hours away!
Every year, we try to do something special for someone around the Holidays even if it means that we don't exchange gifts for each other until January 25th (It just made sense). This year we decided that we would try to do something extra special since we will be at our home.
At right about the same time we decided not to travel, I got an email telling me about some High School students that live  at a group home. The email told me that there were about 20 students that would not have anywhere to go for Christmas. No family, friends or anyone to spend it with.  Our hearts melted. We figured that this is why we were not to travel this year.
There was an adult Connection Group last year that took a similar group to our Christmas Eve service and then our for a nice dinner.  We figured why not do that again?
To make a long story short, we are taking this group of students to one of our Christmas Eve services, and then out to a really nice restaurant where we will give them gifts and have a little Christmas party. This was only going to be possible with the help of the people of our church! We already have so many people that have told me that they wanted to help pay for our student ministry to be able to do this. I am amazed at how our church people are so eager to help our community!
They are truly being the church! Another example is the Illuminate Project. People at our church bought gifts for families that can't afford them this year! Our church gave over 700 gifts! Amazing!
Anyway, I am not sharing this to "toot" our horn or anything! I just want to encourage you to help others this Christmas! Also, we are still in need of financial donations to make this happen for these students. If you are at all interested, then email me. We would love to have your help!
In the end it turns out that Leah's family is coming to us! They are going to come on Christmas day! It's amazing how God works things out in the end! He just wants us to be faithful and take the steps that we are supposed to take!
———————————————————-
Wow! 11 days left and I have sooooo much Christmas stuff to blog about!! I might have to start doubling up like I did yesterday!! Have you checked the previous posts yet??You need to catch up if you just got power back like I did!

Are you taking the JOY CHALLENGE?
———————————————————–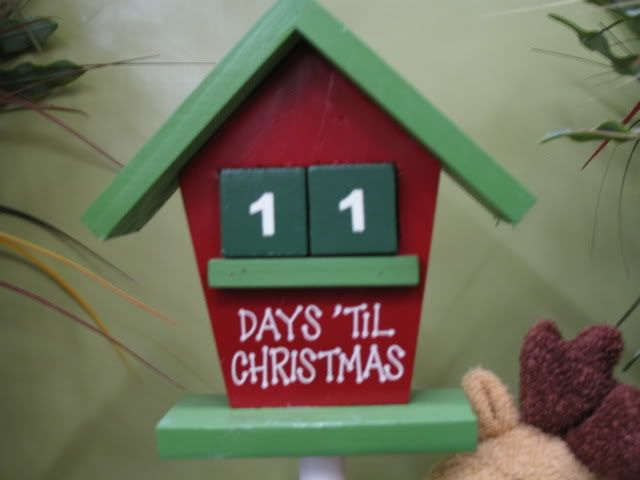 Last Wednesday was our UNITED LIVE "A Very Nerdy Christmas" party! We had over 250 students come out for the event! It was amazing!
God is doing some incredible stuff with Northway Student Ministry!
Below is the first 10ish minutes of our service! I was looking through over 400 pictures that were taken, and I loved seeing the laughter and smiles on students faces! I will post some on our Myspace page!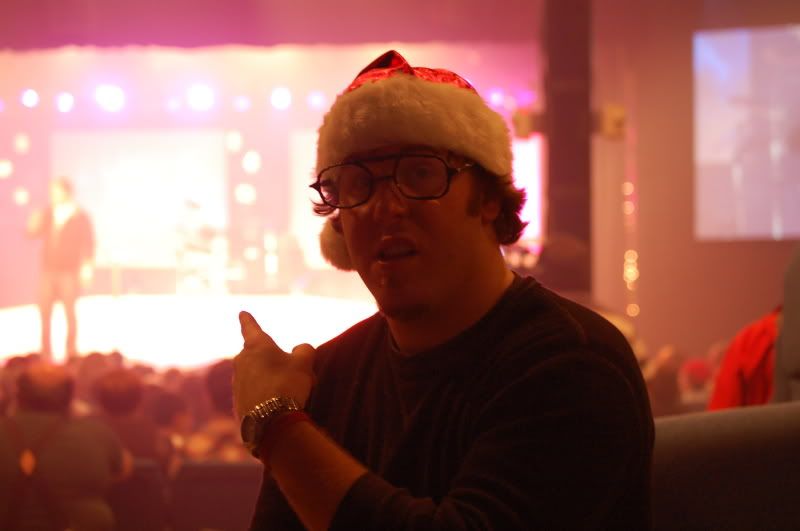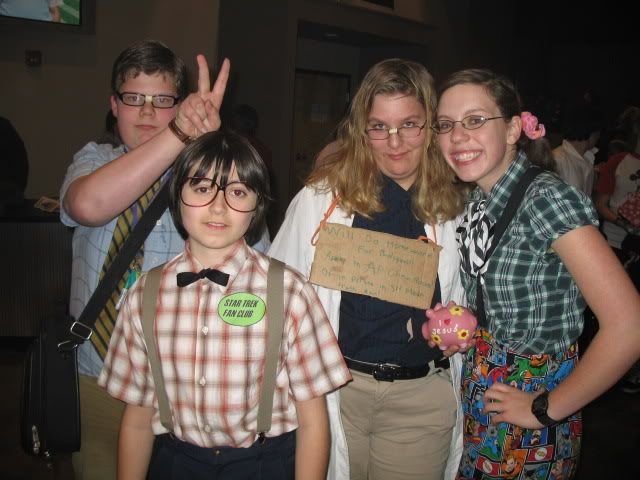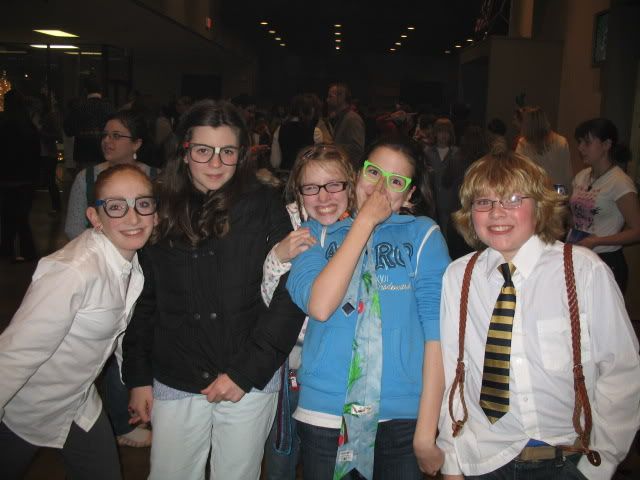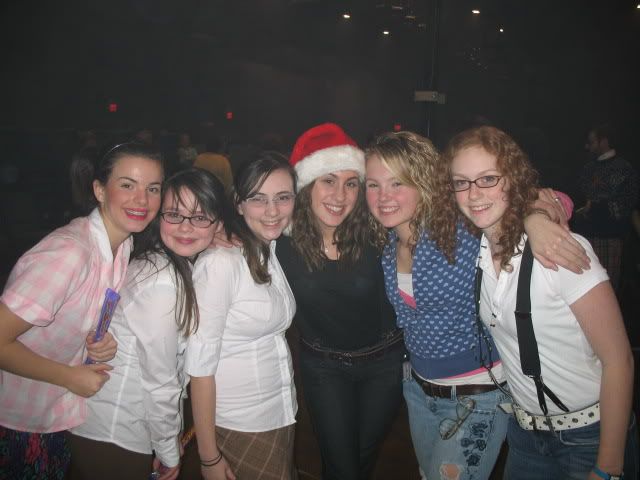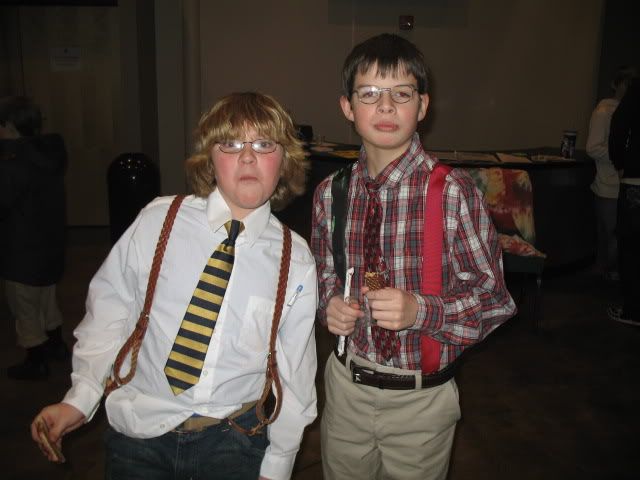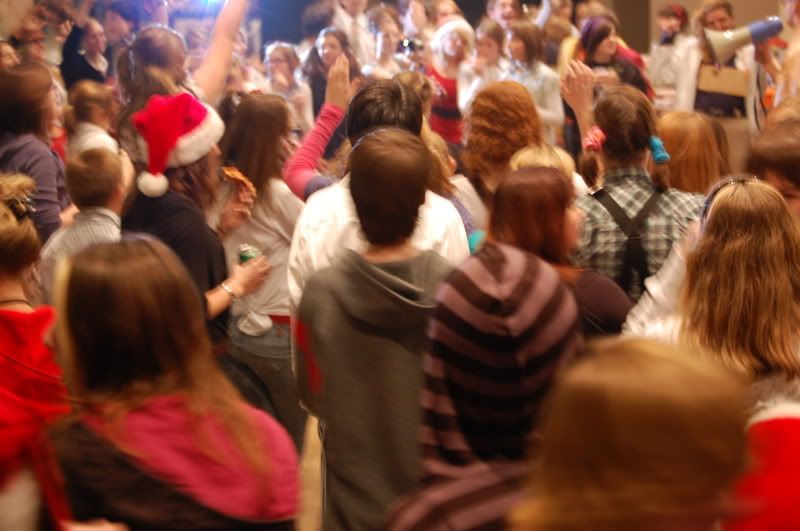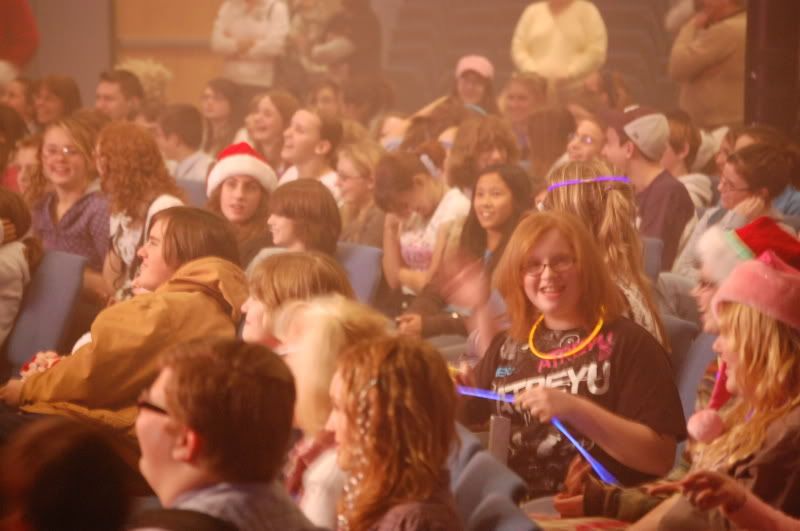 In this video:
- See our student band play a Tran Siberian Orchestra song.
- See me come out for the ending of the song in a Santa suit playing a Rockband guitar! I lived out one of my dreams!
- See the wonderful return of Nerdy Perry with a guest appearance of his older brother, Nerdy Andy! Sooooooooo funny!
It will be sooooo worth it for you to watch every second of this video!
*Don't forget that this is not in any way an "official" video of Northway Church!*

UNITED LIVE Nerdy Christmas (12-10-08) from Kevin Murrell on Vimeo.
——————————————————————-
If you haven't yet, make sure you check our the Christmas updates so far! Feel free to leave your input on the discussions! Oh…and check out the Christmas BUTT Ham from yesterday! Scroll down…
——————————————————————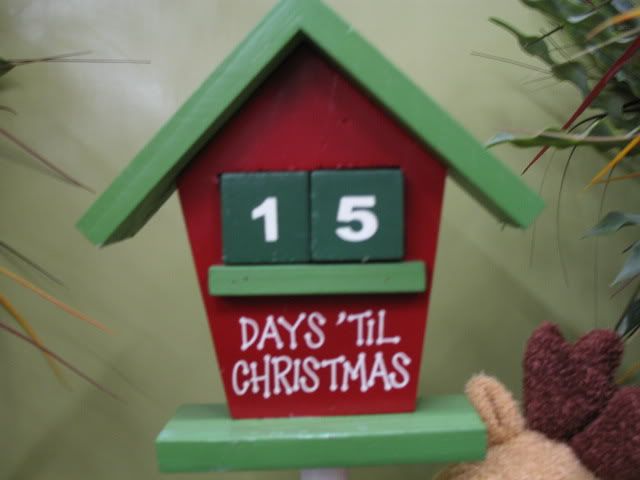 I know that I wrote yesterday that I was going to post a video from our small group Christmas party, but I felt it appropriate to make a little change for today. We will post that video tomorrow instead.
There is something going on right now at Northway Church that is changing lives! We are living in a time where so many people are going through a lot of "life challenges". Financial hardships, unemployment, and sickness are just a few.
The Christmas season is when a lot of us tend to really look at our situations and potentially lose our joy if they are not what we would want.
This Christmas season is going to be different! Go visit www.buddycremeans.com and take the JOY CHALLENGE! Find true JOY this Christmas! Visit Buddy's blog and join us in the JOY CHALLENGE! It could change your life this Christmas!
————————————————————
Tonight is the official UNITED LIVE Christmas party – A Very Nerdy Christmas! We have sooooo much planned for this event! It is going to be the best UNITED LIVE yet! I know… I know…You were at the last one and thought that it couldn't get any better, but just trust me!
Every student will be entered to win a free 8GB Ipod Nano just for showing up! We will give it away at the end of the night!
Parents – Make sure your student(s) get there!
Students – Don't miss this event!
Make sure you dress up in your best "nerdy gear"! I'll post a couple videos later from the party!
I made a quick video yesterday before UNITED featuring some of the students that come right after school to help set up. There are so many more that come too! I will have to feature them another time. We could not pull off this event with our the help of our dedicated student leaders!!
You guys rock!
Check out the video:
Don't forget that UNITED is tonight at 6:30 in Clifton Park!!!!
—————————————————————
QUESTION's FROM STUDENTS
(Click HERE to view the other questions)

QUESTION: I have a few friends that I feel are causing me to do things that I shouldn't do. How do I know if I should leave a friendship? How do I do it?
This is a great question and happens to be what I talked about last week at UNITED with the High School group. This is something that is for anyone, not just students. We all struggle with this one.
"Don't fool yourselves. Bad friends will destroy you." I Corinthians 15:33
No matter where you are in life, your friends will never leave you the same! They could be either bad or good.
I have talked with a lot of students over the years who who have told me about horrible situations that they are in. When I talk to students who's lives have gone out of control and they find themselves in a place they thought they would never be (most of the time being far away from God), I ask them "How did you get here? How did you get to this point? Where did the wheels start to come off?"
99% of the time, they start the exact same way, "Well, I had these friends…" They would go on to tell me about how they had some friends that got them into a lot of trouble, or they met a guy or a girl that caused them a lot of unnecessary pain.
Sometimes we all do some crazy things to "belong" or feel "accepted".
The bottom line is that there is no such thing as a mutual friend. Every friend that you have will effect you wither positively or negatively. Your friends will never leave you the same!
If you are anything like me, I hear something like that and I think I'm immune to that principle. That applies to someone else not me. If I choose to have bad friends (or good friends who do bad things and have a bad influence on me), I am smart enough to get out of those relationships before it destroys me. I'm too strong to let that happen.
Then…I'm reminded of guys in the Bible like Samson. Read Judges 13 and study his life.
If you choose to hang out with the wrong people, then they will take you to the wrong places.
Here are some final thoughts:
- Think of your top 3-5 closest friends. Do they have a positive or negative affect on you??
- God created us to be in a growing relationship with Him. If your friends are causing you to push farther and farther from God, then that is a problem.
- If you are a Christian, then it is okay to have friends that are not Christians, but we have to learn to make our closest circle of friends be people that are like-minded and will help you draw closer to God. Jesus hung out with some of the worst people in that society, but He also had His inner circle of friends that strengthened and encouraged Him. He didn't look to others for direction in life.
You might say, "Okay, I have some close friends that I know are bringing me down. What do I do?"
I'm glad you asked! You can do one of three things:
1. You can do nothing. Unfortunately, this is what probably 90% of us will do. We end up sacrificing our future for a friendship.
2. You can step back. This doesn't mean to totally leave the friendship, but it does mean spending less time there. You need to step back and put boundaries in place.
3. You can walk away. The wrong friends will lead you to the wrong places and you will end up in a place where your life won't line up with God's plans – That is called a wasted life. You can walk away from that. This is the hardest option to apply, but tough circumstances that we put ourselves in often requires tough choices to fix it. Ask God to send you the right friends.

I have seen so many students destroy part of their life because of choosing the wrong friends. Oftentimes they say, "Well, I want to 'help' my friend", but they don't set up any boundaries and they ended up taking that relationship to places that are dishonoring to God.
I will talk more about dating relationships in the near future.
Personally, I am not a "video game person". Are you? I could care less. I think that might be one of the 7 1/2 reasons that Leah married me.
Well, the new craze in the video game industry are the "music related" games. Guitar Hero, Dance Dance Revolution (not so popular anymore), and now Rockband and Rockband 2. Have I played them? Yes, and I can hold my own as long as I'm the bass player on the easy level. DDR is a different story. I know not to even try it.
Last night at UNITED, I was working up a sweat in the Middle School room while we were cleaning up. I came over to the High School area and the video below is what I observed.
You know that feeling you get after you eat a piece of mouse bread? Well, that's the best way to explain the feeling I would have if I had to play three hours of Rockband…haha
Can someone please agree with me?

Check it out: (This video features fellow bloggers Dave (on guitar) and Jeremy (Don't really know what he's doing…haha)
Is it an event? Is it a concert? A conference?
Well, I guess that you can say it's all three!
Here's the deal…
What? World Vision Youth Explosion Tour
When? Monday, Februry 23, 2009 at 6:00pm
 Who? Four bands including one headliner and one dynamic speaker.
Who's the headliner? HAWK NELSON!! (CLICK HERE to view their site)

Who's the speaker? Joe Baker
This must cost a fortune, right? Nope! $10 per ticket!
Basically, this is going tobe a HUGE event! World Vision is an incredible organization! They have a passion for children and teenagers all across the world! The Youth Explosion Tour is partnering with them to make this event happen.They have a desire to get into the Northeast and called us to do it!
Tickets are already available at itickets.com by clicking HERE! Get your tickets ahead of time!!!
More info, graphics, e-invites etc… to come soon!!! Spread the word!
I find it hard to believe, but if you've never heard of Hawk Nelson, then here's a couple of their music videos… (Also, this weekend, I'll post a couple more of their videos)
Don't forget that UNITED is tonight at 6:30pm in Clifton Park! We are making a HUGE concert announcement!! Think BIG!
—————————————————————————-
Question From A Student
(Click HERE to view other questions)
QUESTION: Is it God's will for us to get sick?
This is kind of a continuation of last week's question, "Why do bad things happen to good people?". I got asked these types of questions the most. We all wonder about this stuff sometimes, especially when either we or a family member or friend is sick or hurt.
God is sovereign. All that means is that God is powerful or "mighty" over everything. He has the power to do literally anything that He wants. Amazing thought, right? The problem is that we in our human minds can't comprehend that. We are finite. Naturally the result of trying to think about what all that entails causes us to come up with questions.
That means that God can do either of two things:
1. He can directly CAUSE something to happen.
2. He can passively ALLOW something to happen.
 For example, God caused the creation of the perfect, sinless Adam and Eve, then He allowed them to rebel against Him. He did not cause them to sin and He certainly could have stopped them, but He chose not to for His own purposes and to bring about His perfect plan. God knew that if He "caused" them to stay perfect, then Adam and Eve would have no true reason to love God. Love requires the "choice" to love. Make sense?
The sin of Adam and Eve brought every type of evil to the earth – both moral evil (sin), and natural evil (sickness and natural disasters etc…). The word "evil" literally means to perverse something that was originally good. In the case of sickness, illness is a state where good health is missing.
When Adam sinned, he condemned all of humanity to suffer the consequences of that sin, one of which is sickness.
"Against its will, everything on earth was subjected to God's curse. 21 All creation anticipates the day when it will join God's children in glorious freedom from death and decay. 22 For we know that all creation has been groaning as in the pains of childbirth right up to the present time. 23 And even we Christians, although we have the Holy Spirit within us as a foretaste of future glory, also groan to be released from pain and suffering. We, too, wait anxiously for that day when God will give us our full rights as his children,  including the new bodies he has promised us." Romans 8:22-23
Even though we live in a cursed world, God still uses that pain oftentimes for good. The gospels (Matthew, Mark, Luke, and John) are loaded with situations where Jesus used sickness to reveal the fact that He truly was the Son of God.
When illness does come, it may not be the result of God's direct intervention in our lives, but is rather the result of the fallen world, fallen bodies, and poor health and lifestyle choices. God wants us to do our part to be healthy. Either way, God oftentimes uses our sickness to teach us something.
I can think of countless situations where through sickness and hardships, people grew closer and closer to God, and it changed their lives for the better.
So…Sickness is definitely the result of the Fall of man into sin, but God is very much in control and He DOES often determine how far evil can go (just as He did with Satan and Job's trials (Book of Job) —Satan was not allowed to exceed those boundaries). He tells us He is all-powerful about fifty-six times in the Bible, and it is amazing to see how His sovereignty dovetails with the choices we make (both bad and good) to work out in a perfect plan.
"And we know that God causes everything to work together F35 for the good of those who love God and are called according to his purpose for them." Romans 8:28

For those who are Christians and are suffering with illnesses such as cancer etc…, the knowledge that they can glorify God through their suffering tempers the uncertainty as to why He has allowed it, something they may not truly understand until they stand in His presence in eternity. At that time, all questions will be answered.
That's right, but if you're a student, then you have to wait until tomorrow night at UNITED to find out! Sorry, but it will be worth it!
Everyone else…I will make the HUGE announcement Thursday morning on my blog. Well, maybe even late Wednesday night.
Think BIG…No…think even BIGGER!
It is more than just a concert!! I can't handle the suspense!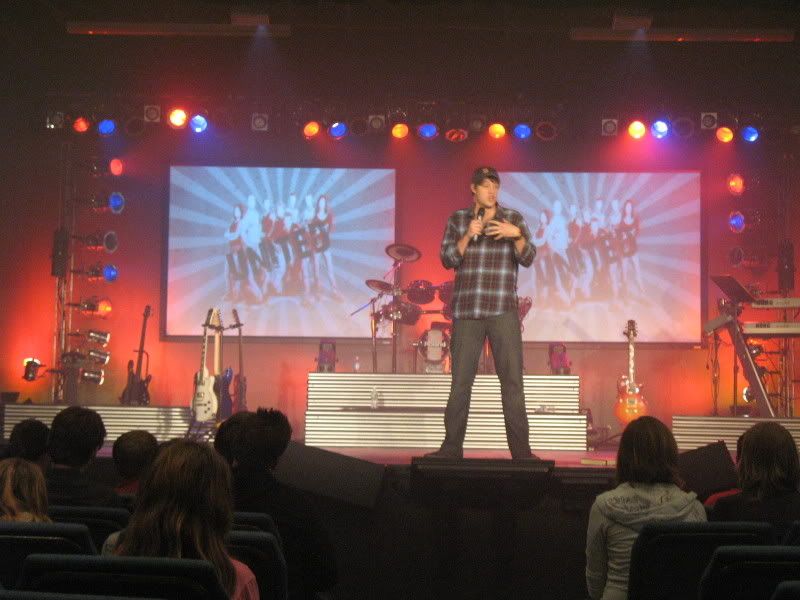 Aaron Cavin. What else can I say? God has used his life so much to impact our students at Northway, as well as thousands of other students across the country!
Aaron recently just started Life Community Church in Quincy (Boston), MA. God has given him a clear calling to the Northeast.
I became friends with him in the past couple of years since he was speaking at our High School camp. Basically, most of our student ministry growth in the past two years can be traced back to what God did through Aaron at camp. It is an incredible story.
Please pray for Aaron and his team as he continues to serve our God.
You wanted it…you got it… Here is the full message from this past Wednesday night.

UNITED LIVE – Aaron Cavin Message 11-5-08 from Kevin Murrell on Vimeo.