I hate spiders! This afternoon some dirty little Arachnids thought that they could infiltrate my yard! Not happening! I am so thankful for Fresh Scent Raid!
If you suffer from a severe case of arachnophobia like I do, then you may want to turn your head during this brief presentation!
Here we go:

As you probably already know…
 UNITEDis this Sunday night at Northway Church – Clifton Park! This will be the last UNITED of the school year, but it's going to be HUGE! 
 Why? Well…because UNITED is always huge, but there is something even HUGERER going on!
Ok, I'll just tell you!  
Aaron Cavin is coming to speak at UNITED!
Who is Aaron Cavin? He was our High School Lift Camp speaker last year that helped spark the REVOLUTION (watch this video) in our students! So much of the incredible stuff that has taken place at Northway in the past year can be traced back to 18 high school students that went to camp last year! Aaron was who God used to help start that.
Well, we are really excited to have Aaron here with us this weekend! He is speaking at our High School Lift Camp again this year! We already have about 100 students going to camp this year! If you haven't yet signed up, make sure you do it this weekend!
We want every student at Northway to make sure that they are there this Sunday night!!! We want to pack that place out with over 300 students! Parents, please make sure your student doesn't miss this special night!
CLICK HERE to view the other questions.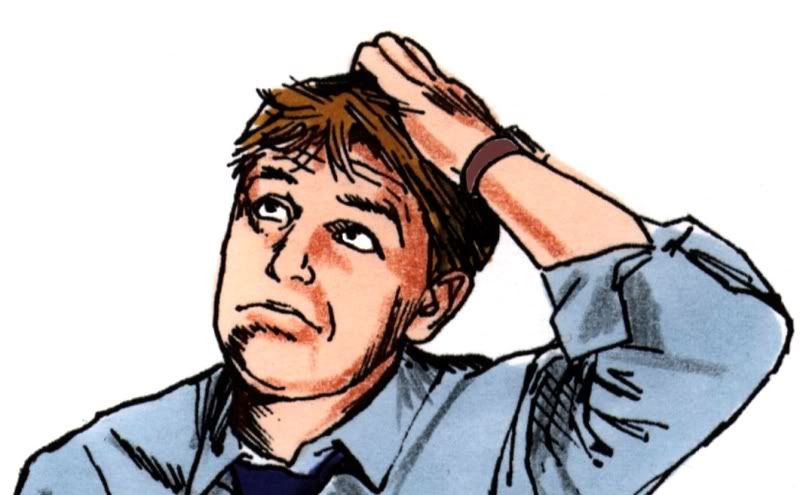 QUESTION (PART 2): How can I have a better "self-image"?

There are so many people for us to look up to! There are the people on the front of magazines, people in movies etc… that we sometimes feel like we have to look like in order to be accepted. Some people in the movies are so "perfect" that we think we can never live up to that! When we take these thoughts, and we add to them the harsh remarks people have said about us, or even just the things about us that we are not satisfied with, it creates this black cloud around us called poor self-image!

How we look at ourselves, our "self-image", largely determines how we look at everything else. It filters our thoughts on everything, and determines whether we will react bravely or timidly. It determines if we will initiate our own activity or criticize the efforts of others. Proverbs 4:23 says, "Above all else, guard your heart, for it affects everything that you do." How we view ourselves is so important in our search for the answers to life issues.

Have you ever been around someone that is just always positive, cheery, and confident? That is all primarily produced by a positive self-image. Our self-image affects our attitude (Proverbs 15:13), our physical health (Proverbs 17:22), and influence the attitude of our peers (Proverbs 18:14). It also leaves us vulnerable to the attacks of the enemy (Proverbs 27:8).

Since so much of our life an be affected by our self-image, how do you make sure we are okay?

Start with this question: Where do you find your identity? 

"I am my job"     "I am what I look like to others"

"I am the experiences I've had"     "I am what I'm good at"

"I am what my parents are"     "I am how I look at myself"

The list could go on and on! Having thought like that can lead to a lot of discontentment in your life. Because your job isn't always going to be glamorous, and you're not always going to look just right, and MOST of the time your experiences don't resemble a movie—they're just ordinary and everyday.

We all have an idea of what "cool" is,  what a "tough guy" is, what a "cute girl" looks like or acts like, and we think that if we don't act or look this way then we are worthless! No one can live up to the guy in the movie who after 40 takes looks perfect with all the right make-up on and the music in the background, but we tend to compare ourselves to that anyway! Even that actor can't compare to that in real life!

How much do you think media affects your self-image:

 

_____ Not at All     _____ Some     _____ A Lot

  

You can try to tune out all of the garbage we get fed in this world, but still feel empty because of the way you look at yourself! When you let God invade your heart, you can then begin to see exactly how God looks at you. Only then can begin to piece together the amazing image that God sees when He sees you!

Are you willing to believe what God says about you and your worth and image?

On your own, read Psalm 139:13-18. This tells us that before we were ever born, God formed us and put us together! What an amazing thought! God spent a lot of time working on you because He wanted you to be exactly as you are! God can't make junk or garbage!! Whatever God makes, He makes it awesome. It doesn't matter what other people say about you. All that matters is God's opinion of us, and He says that He loves us the way we are.

Ephesians 2:10 says, "For we are God's masterpiece. He has created us anew in Christ Jesus, so that we can do the good things he planned for us long ago." God has a plan for your life. The question is, ARE YOU LETTING SELF-IMAGE GET IN THE WAY OF WHAT GOD WANTS FOR YOU? DO YOU TRULY FIND YOUR IDENTITY IN GOD? God wants the very best for us. Keep reading God's Word and be willing to tune out the stuff that the world is screaming at you!

I encourge you to look up and read the verses above, and ask God how you can have a better self-image, so that you can fully do what God has for your life.
- Wow! So much went on this past week!
- Leah's family came over from Vermont for the weekend. Vermont? It borders northeastern NY and has a lot of cows, but good coffee.
- I made a couple of random corny videos (first one, second one) that recap the family part of the weekend. I embarrassed the heck out of myself.
- So, have you watched them yet? No pressure. :)
- Brian did an incredible job speaking at Northway over the weekend. Great passion and energy. I'm not talking to him for a week since he made me cry though.
- I got to hang out at the Colonie campus on Sunday. It's amazing what God has done there in the past few months!
-  I went to see Indiana Jones on Friday. It was like Indiana Jones, Star Wars, Tarzan, and Independence Day all in one movie. It's definitely worth seeing though.
- Fly 92.3 played "hits" from the 90s all weekend! I love 90s music. (It's a lot better than 80s music)
RANDOM MEMORIAL DAY WEEKEND FACTS:
- Waterloo, N.Y. is considered the birthplace of this holiday because the people of Waterloo were the first people to proclaim a day (May 5, 1866) to honor the soldiers who died in the Civil War. They closed their businesses and placed flowers and flags on the graves of their soldiers. Flags were flown at half-mast. Got to love NY!
- On the Thursday before Memorial Day, the 1,200 soldiers of the 3d U.S. Infantry place small American flags at each of the more than 260,000 gravestones at Arlington National Cemetery. They then patrol 24 hours a day during the weekend to ensure that each flag remains standing.
- Memorial Day is the second most popular day for a barbecue!
- If you had hot dogs or ribs, then they most likely were "manufactured" in Iowa. Iowa has a total inventory of 14.9 million hogs and pigs — about one-fourth of the nation's total. Well, maybe they have less now since we all just ate some of them.
- The lettuce in your salad or on your hamburger probably was grown in California, which accounted for nearly three-quarters of the lettuce in America.
- The most popular barbecue utensils are long-handled tongs, followed by grill cleaning brushes.
- I read this thought-provoking quote in a local newspaper: "A safety belt is a great asset in your vehicle and can help keep you more safe during this Memorial Day Weekend." I would have to say that I agree with that statement.
In case you haven't noticed, I like to make pointless corny random videos. Did you check out the video in my last post? Ok…don't. Anyway, the disclaimer with that video also applies to this one! I hope you enjoy the background music as much as I did.

Leah's family was visiting from Vermont, and I discovered that my digital camera also has a video function. Watch out Dave Bookhout!
By the way, I know that the plural is "deer".
Here we go:

So…I took on my three younger (much younger) brother-in-laws in some serious B-Ball action today. Do you really want to know who won? Well, check out this video.
(Please see disclaimer below)

Disclaimer: Not all of the information or "ways that some are portrayed" in this video have been proven to be completely accurate. Some minor misperceptions may or may not have taken place. It may also be corny.
Oh yeah…I'll be back on Monday with another video adventure. I will do my weekly re-cap on Tuesday, and my Question From a Student on Wednesday. (In case you cared)

Brian is speaking this weekend at Northway, and he got me thinking about the idea of what a "memorial" is all about. When I got done writing his message for him (I am soooo just kidding…sort of

), I started thinking about this weekend and why we celebrate Memorial Day.
Every year on the last Monday in May our nation celebrates the lives of men and women who have lost their lives while serving in the Military. For some, it is a painful remembrance of a family member or friend that has lost their life while serving. For some, it is a day to be extra patriotic and applaud those that are willing to give their life for our freedom. For some, it is a time to get together with family or friends for some good BBQ and ultimate Frisbee. For some, it is just an extra day they don't have to work.
 What is it for you? For me, if I were to be honest, I would say it has mostly been a time to get together with family or friends for some good BBQ and ultimate Frisbee. I plan on changing that a little bit this year. On Monday morning, I plan on visiting the Saratoga National Cemetery. I've been wanting to check it out for a while now, so I am going to just do it. I recently watched part of a documentary on WWII and grew to have such a deep respect for those veterans.
I will still make sure I eat well ("well" meaning good food, not just fruit and vegetables), and play some Frisbee, although I might settle for a good game of Jarts. All I'm trying to say is that I want to pause and show some respect for the guys and gals that gave up their lives so that I can have the freedoms that I have today. I have nothing against anyone that doesn't do anything "patriotic" on Memorial Day, but I just figured I would try and do something different.
Leah's family is coming over from Vermont this weekend so maybe they will come with me. They have cemeteries in VT, right? We are looking forward to a great weekend with them.
Oh…I plan on doing a couple video blog posts throughout the weekend too! I'll introduce you to Leah's little brothers. They are 14, 12, and 9. (I think) Come back and check out the videos if you have time! HAVE A GREAT WEEKEND!
…go see the new INDIANA JONES MOVIE???
Sure…Harrison Ford is over sixty and probably gets up three times a night to pee, but who cares? He's Indian Jones! I grew up watching the first three movies. I used to want a whip just like his, but my parents would never let me because I might whip the dog…or my sister. (I guess it was okay with them if I whipped my brothers!) I had to settle for his hat. I was a dorky seven year old.
Anyway, I doubt the fourth movie will be as good as the first three, but it's one of those movies that you have to go see no matter what. Leah and I are going with some friends to see it at the brand new theater in Colonie! I already bought the tickets.
Is anyone else going to go see it this weekend?
Here is the good trailer:

Please join me in praying for Steven Curtis Chapman and his family. Last night his youngest child, Maria, was struck by an SUV in their driveway. The driver of the SUV was their teenage son. It was an accident. Maria was airlifted to a local hospital where she was confirmed dead. I can't even imagine what this family is going through right now.
Maria was the third child that they had adopted from China. Besides being one of the most awarded Christian artists of all time, Steven Curtis Chapman and his wife have made it a life goal to help as many of the worlds orphans as they can. They formed an organization called Shaohannah's Hope, that helps raise money for people that want to adopt but can't afford it. Chapman believes that adoption is one of the most selfless acts that anyone can do. If you follow the link to the site, you can really see their heart!
This hits Leah and I kind of hard, since we have been researching the idea of adopting a girl from China. It seems like everywhere we turn, we have been directed to Chapman's organization. It just pains us to think of what he and his family is going through at this time. Chapman and his family have awesome faith in God, and I know that God will give them the grace that they need.
If you read this, please just take a minute to pray for their family. Thanks!
It is crazy what we can do with the Internet! I watched a documentary on the History Channel (Hey…you don't have to be in your 60s to watch it) about the evolution of the Internet the other day, and was blown away by how fast the Internet took off. As of 1990 there were only 300,000 people using the Internet with a computer and a phone. It cost $200/year and you had to really know a lot to use it. It's kind of like the internet Kip had on Napoleon Dynamite!
I have to admit…I didn't even use the Internet until I was a freshman in college! (1999…Stop doing the math!) I had a Juno email account. Can anyone relate? I didn't understand it. I had no desire to use it. I really could care less. Now I can be in touch with just about every friend I ever lost contact with, I can look up and research  just about anything! Just Google it!
I can send a text or pix message from my cell phone that goes to my Twitter or Twitpic accounts, which updates my blog, which updates my Facebook, then it gives me a nice little e-mail message telling me what just took place. Craziness! Just that is too much to keep track of. Then there's my myspace, the student ministry mysace, flickr, church e-mail, work e-mail, Red Sox scores, eBay sales, cell phone, home phone, online bill paying…..make it stop! I can't even remember my passwords half the time.

It's not really as bad as it seems…
Kid's grow up today in such a technology saturated society. I am all about technology…in fact I love it…so does Kip…if it's used in the right way, and does not take over your life! I love networking with current friends, new friends, old friends etc… It's a great privilege to have all of this at our fingertips.
I guess I am just kind of rambling a bit, which is why I have the randomness category. I was just thinking about this a lot since I saw that show. I just don't want to let that stuff get in the way of my walk with God, my relationship with my wife, work, and Smallville. (Just kidding about Smallville…I think)
Here are ads for brand new computers in the 80′s: