We are in the middle of renovating our Clifton Park campus as we are getting ready for the Malta campus to temporarily come on down. It's an exciting summer in the works. There is so much work that has to be done!
Every night this week, people have volunteered their time to come and help out. SO MANY people have come from 5-9 every week night to do anything to help. We had the renovation "professionals" (carpenters, contractors, painters, ice-cream makers, electricians, etc…), and we had my favorites…the people that just showed up and said "what can I do to help?". Then you had myself that didn't have a clue about how to paint or remove ceiling tiles, but got to drive the massive lift. I also loved seeing and hearing about whole families (Dad, mom, and kids) coming out on multiple nights, making the renovation their family activity night.
I was only able to make it out for two nights this week, but so many others came out EVERY single night to help! It's a great picture of the church coming together to just "git 'er done!" All of this work comes after doing the same thing at our property a couple of weeks ago! Our volunteers (VIP's) are the best!
Hmmmm…"Renovation"…that could make a good series some time!
Here are a few pics that I took with my camera phone (bad quality):
(I got to drive the lift!)
I hate to waste a precious blog post on this but…
I got some people (mostly relatives) a little ruffled in a blog post last week when I made some remarks about PT Cruisers.
Well, I felt bad about what I said. I would probably cry if someone hated on Jeep Wranglers. After a quick little trip to Herkimer, NY (in the middle of nowhere), I had another change of heart.
I walked out of a business earlier today to find this:
(The last picture was taken after the middle-aged couple got into the car. I had to make it look like I was talking into my speaker phone as to not look so suspicious. I sped off pretty quickly!)
I rest my case about PT Cruisers. (In a very loving and understanding way with plenty of grace.)

The Red Sox won the World Series last year with ease. The Patriots had their best season ever (but lost). The Bruins did pretty well, but it's hockey. The CELTICS JUST WON THE CHAMPIONSHIP LAST NIGHT!
I watched the Celtics absolutely CRUSH the Lakers last night with the other guys on the church staff.It was some good times. Tons of late-night pizza, games of P-I-G and knockout, and laughing at Kevin Garnett's emotions (see video below). Everyone their last night was pulling for the Celtics. Why? Because EVERYBODY (even Yankee fans) loves the city of Boston!

I love Boston! I was born and raised just outside the city, and love everything about it. From the history, to the sports (Red Sox), to the tons of stuff to do, you can never get enough of that city. I would try to avoid the subway elevators, though.
Sorry, I'm getting off topic. THE CELTICS WON LAST NIGHT!Pierce, Allen, and Garnett made an unstoppable force all season. They earned the championship!
My absolute favorite quote after the game was made by Kevin Garnett while he was slow-dancing with the ESPN reporter.  He said, "Ah bobby booboo boo baba, mama!"
Here, see for yourself:

I guess that I would probably say the same thing too if I won. Ahhhhhhhhh, maybe not!
The study is over! The results are in! Guys rule, girls drool…and carry more bacteria! When I was younger, I was always the biggest advocate for the idea that girls have cooties. Then I met Leah and things changed a little, but that's a story for another day.
In order to be fair, I must explain the context…
Clorox, the best company in the world, conducted a study led by University of Arizona professor Charles Gerba that found the above results (the bacteria thing, not cooties)! Gerba tested 100s of office spaces in New York, Los Angeles, San Francisco, Oregon and Washington, D.C., that found that a woman's workspace has so much more bacteria than a man's workspace.
Here is some of what Gerba said:
- "I thought for sure men would be germier," Gerba said. "But women have more interactions with small children and keep food in their desks. The other problem is makeup. Women's desks typically looked cleaner. But the knickknacks are more abundant, and cosmetics and hand lotions make prime germ-transfer agents. Makeup cases also make for fine germ homes, along with phones, purses and desk drawers."
- "When women put hand lotion on, it just spreads the bacteria all over the hands. They then touch everything and the lotion sticks to the surfaces with all of it's new bacteria."
- "Food in desk drawers also harbors lots of microorganisms, and it is more abundant among female office workers. Gerba found 75 percent of women had munchies in their desks."

- "THE AVERAGE OFFICE DESKTOP HAS 400 TIMES MORE BACTERIA THAN THE AVERAGE OFFICE TOILET SEAT." WOW!
It's not all good news for men though. Gerba found that the overall worst germ offender in the office is men's wallets and men's cell phones!
- Gerba said, "Wallets are in your back pocket where it's nice and warm, it's a great incubator for bacteria."
Ha ha…mine is in my side pocket and I Clorox wipe my wallet and all it's contents bi-monthly. 
Anyway, I thought that this was a pretty interesting story. For all of you girls that are thinking mean thoughts about me right now for revealing your secrets, let me just say…
I DO BELIEVE THAT MOST MEN ARE MUCH GERMIER THAN MOST WOMEN…but just not in the office.
I'm just going to walk around with latex gloves on. Would that be socially acceptable or just plain weird?
(To join the fight against germs, please read the germ-fighting info from your friendly New York State Dept. of Health by CLICKING HERE)

- Beautiful weather up here all of last week! (Except for the "tornado" like weather a couple of nights…and all the hail, and lightning strikes that caused fires all over)
- I had a pretty interesting trip to Plattsburgh.
- I think I upset some of my relatives about my remarks about PT Cruisers. It turns out 3/6 of my relatives in Texas all drive PT Cruisers! They should join one of the many PT Cruiser clubs across North America. Maybe I will too…nahhhh!
- I guess that the Celtics will have to win it all at home. Oh well. They didn't score enough touchdowns. Go Boston!
- Ed Young (I love his blog) did an incredible job speaking for the One Prayer series. His "WAKE UP!" message really spoke to me! I needed to hear that.
- Ed spoke about Eutychus, who fell out of a third-story window during church. Eutycussed too if you fell out of a window! haha…I got a good laugh out of that one.
- I got to be down in Colonie again for the Sunday morning service! I love talking to the VIP's (volunteers) down there. They have such a passion for that location!
- Leah and I went for a nice Sunday night drive. Besides guzzling all that gas, Leah refused to take her door off of my Jeep. We got a lot of awkward stares while driving around with one door on and one door off!
- Yesterday was Father's Day!
RANDOM FATHER'S DAY FACTS:
- There is an estimated 64.3 million fathers across the Nation.
- Sonora Dodd, of Washington, first had the idea of a "father's day." She thought of the idea for Father's Day while listening to a Mother's Day sermon in 1909.
- President Calvin Coolidge, in 1924, supported the idea of a national Father's Day. Then in 1966 President Lyndon Johnson signed a presidential proclamation declaring the 3rd Sunday of June as Father's Day. President Richard Nixon signed the law which finally made it permanent in 1972.
- Why didn't Calvin Coolidge just do it?
- "If the new American father feels bewildered and even defeated, let him take comfort from the fact that whatever he does in any fathering situation has a fifty percent chance of being right." — Bill Cosby
Happy Father's Day to my dad (the best one), and all of the other dads out there!Here is a video that I've had about father's that was made by the Pampers company (diapers)…

Pampers is pretty creative.
I came across this video about Twitter, and thought that it was interesting. Twitter is easy and does not really take up any extra time at all if you use texting on your phone. I haven't even logged into my Twitter account in a while, but still update it.
Check this out: (I should get commission from them.)

Just a random Friday post…now you can read about my day on Wednesday below…
I am just getting back from a short business trip to Plattsburgh, NY. Plattsburgh is a large random college town on the way to Montreal from Albany.
Whenever I make little trips by myself (or actually with anyone for that matter), it's seems like I am a magnet for wierd or awkward moments. Things happen that, from what I can tell, don't normally take place with many other people.
For example, all of this took place in only the first day:
- I rented a car and got my least favorite vehicle of all time…a PT Cruiser. (If you have one, then good for you!) I feel like for a guy to drive one of those he needs to be at least 45 years old, single, and own lots of cats. (Again if you have one, then good for you!) Oh…and it was blueish purple!
- On the way up to Plattsburgh, I almost crashed avoiding a huge Turkey and it's "turkey chicks" crossing the highway. I could not avoid running over two baby turkeys. I'm sorry! It was either the baby turkeys or the PT Cruiser! I guess that I should have saved the Turkeys. Right?
- I got pulled over for going 70 in a 65. Who gets pulled over for going only 5 mph over the speed limit? I do…please refer back to the second paragraph above. I got out of the ticket. Maybe I looked suspicious in the PT Cruiser.
- After my work day, I went for a run along some trails around Lake Champlain. Have you ever been running and got so tired to the point that if a German Shepherd jumps out and lunges at you, then you just don't have any energy to do anything else but let him eat you? Well, I was running and got so tired, and a German Shepherd lunged out at me from the bushes and literally tackled me to the ground! Luckily the owner was not far behind. I don't normally yell at anyone or anything, but I was ready to lose it! It scared the living day lights out of me! The dog was apparently just trying to be friendly, but I seriously wanted a gun right then and there.
- Later that night, I went to the ghetto mall and about 10 minutes after being there I hear from the loud speaker…"Would the owner of a PURPLE PT Cruiser, license plate #(     ), please return to your vehicle." I went out there and three security guards are surrounding the car. I had left my lights on.

- I was bored so decided to do something spontaneous that I had never ever done before in all of my life (I don't think). I went to see a movie by myself. I was so nervous. My sister-in-law Cassie I guess does it all the time, so I texted her for support. She texted me into seeing Iron Man. That wasn't even the worst part! There was about ten of us in the movie theater and some random guy (he was alone too) decided to sit four seats away from me.
So…that was my day yesterday in truest form! Weird, right? I'm just thankful for being alive and being able to have another weird day tomorrow.

CLICK HERE to view the other questions.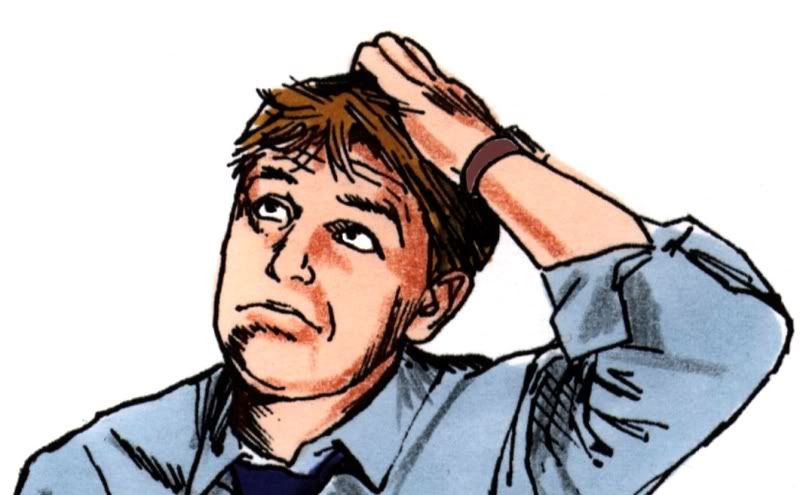 QUESTION: What are some of the basic things that God wants Christians to do?
Great question! The one thing that we should always turn to when thinking about this stuff is the Bible. The Bible should always be our final authority in any matter. There is so much more I could write about that, but I'll save it for another time.
Growing up, I had always learned twelve things that God wanted for us to do. I'm sure we could even make this list shorter or longer. Many other things can fall under these twelve, but this is just a basic start.
I will dissect these more very soon, but for now, here are the twelve things:
- God wants you to become a Christian and grow spiritually.
- God wants you to be increasing in your knowledge of His Word (The Bible).
- God wants you to have a transformed mind (Romans 12:2).
- God wants you to develop Christ-like character.
- God wants you to establish firm Bible-based beliefs.
- God wants you to be a wise steward of your time, money, and talents.
- God wants your relationships to be characterized by selfless love.
- God wants you to be actively involved in your church.
- God wants you to show compassion to those in need.
- God wants you to respond like Jesus would to the difficult issues you encounter.
- God wants you to be a spiritual/Christian leader.
- God wants you to follow His unique plan for your life.
Very soon (probably over the summer), I will take one of these each week and dissect it with some verses and more explanation. For now, look at those twelve statements. How are you lining up? I know I need to do a lot of work personally. As of right now, don't worry if you feel like you don't measure up to what God wants for you. God looks at your heart, and he wants to see that you have a DESIRE to do what is right. He wants to see you taking STEPS in the right direction. Even baby steps! He wants to see you making an effort to study His Word, and pray. Maybe you can take just one of the twelve for now and work on it.
Romans 12:2 says, "Do not be conformed to this world, but be transformed by the renewing of your mind, that you may prove what is that good and acceptable and perfect will of God." Everything listed above is part of God's will for your life, and every life for that matter. We will never be able to fully do what God wants for us if we are letting the world decide what life paths we need to take. SEEK GOD AND PRAY for a renewed mind!
(I will be posting an all-new Question From a Student tomorrow!)
If you had one prayer that you knew God would answer regarding His church, what would it be? That question is the premise for our current series, One Prayer, at Northway Church. This is a series that we are doing with literally thousands of other churches around the world. This weekend was Craig Groeschel's turn to speak.
God used Craig's message to really speak to me about how passionate God is about Christians being united! Christians everywhere have a horrible reputation. I always knew about that, but for some reason the message just really helped to open my eyes about it. Instead of always trying to have God answer our prayers, WHY CAN'T WE AS CHRISTIANS BE THE ANSWER TO HIS PRAYER?
Here was Christ's prayer for us…
My prayer is not for them alone. I pray also for those who will believe in me through their message, that all of them may be one, Father, just as you are in me and I am in you. May they also be in us so that the world may believe that you have sent me. I have given them the glory that you gave me, that they may be one as we are one: I in them and you in me. May they be brought to complete unity to let the world know that you sent me and have loved them even as you have loved me.  "Father, I want those you have given me to be with me where I am, and to see my glory, the glory you have given me because you loved me before the creation of the world. John 17:20-24
If you go to Northway, then you already know about Craig's message. I just feel like it is worth putting on here because it is such an important issue! I'm sick of seeing people get turned off to God because they look at how "Christians" act and get immediately turned off!
CLICK HERE to watch the message.Trust me…it's worth it! (The actual message starts a couple minutes into the video)

What are you doing to be the answer to Christ's prayer?