Archive for September, 2008
Remember how I said a few weeks ago that unusual situations seem to present themselves to me often? Well, this past weekend when I went to pick up Leah, we ran into an unusual situation in my parents back yard.
Bob the squirrel (that's what we shall call him), mistook my parents pool for a sea of acorns and jumped right on in. Once he realized that it wasn't acorns, he panicked and swam across the water. Once he got to the edge, he saw Leah and decided to climb the hand rail where he froze from shear terror. This is where the video picks up…
Check it out…
So many of you have asked for a copy of the cardboard testimonies, so here it is! You can embed it on your personal site etc…
I am so proud of our students! For those of you who do not know what this is, it is something that was recorded live during our services this past weekend. It reflects how our students were before camp and then after camp.
Let our students know how proud you are of them!
Here is the video!
This Fall is going to be the best season in Northway Student Ministry history!! God has done so much this past year and summer! I's only just beginning!!
UNITED has a new day and time!!! We are shifting over to Wednesday nights! (See pic below for the full year schedule for UNITED)
This next Wednesday  night (September 17th) will mark the kick-off of our new series of UNITED's.  We have made a lot of changes to make this even better than last year.
If you are reading this right now and know anyone in the Capital Region of Upstate New York that is in 6-12 grade, then we need your help to make sure that they get here! It's not worth missing what God can do in their lives!
Parents, make sure your kids get there!! Make it a priority!
Students, make sure you get there!! Make it a priority!

Aunts, Uncles, Grandparents, Friends, make sure you invite someone!!! Make it a priority!
Make church a priority? YES!
Nothing gets under my skin more as a student pastor, then when God and His House (the Church) get's put last in the family "to-do" list!  It needs to be above everything else because it outlasts everything else and can change how we live at work, school, in sports, etc… It encompasses everything else that we do in life! Make it a priority! (Sorry…I'm just venting a little bit, but…hey…it's my blog!)

————————
What is going on every Wednesday night that UNITED is not scheduled? We are going to have a service specifically for students, as well as a brief time for the sudents to hang out with each other. The services will introduce topics and situations that students face everyday! It is going to be from 6:30-7:45pm. More info to come on this… We still have yet to name this event. Any suggestions?
————————-
Here is the UNITED schedule for the whole school year! (UNITED is on the first Wednesday night of the month, except for in September and October)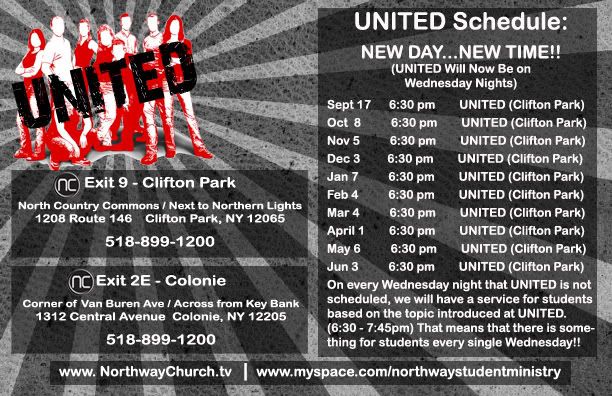 - Craziest week ever!
- I'm pretty tired.
- So many awesome things happened this week.
- We've been planning for the best Fall ever in Student Ministry!
- September 17th is when UNITED kicks off! Yes…it's a WEDNESDAY NIGHT!
- We are going to have something every Wednesday night for students at Northway!
- I did my very first wedding ceremony on Saturday!
- If you were to ask me six years ago if I would go into a situation where I didn't know anybody, and I had to get in front of a group of people and perform a wedding ceremony, then I would think that you were crazy!
- It's amazing what God can do to change a life.
- This past weekend was the Student Ministry weekend!!
- All of our students did "Cardboard Testimonies"!!
- If you missed it, I will have it on YouTube hopefully this week. I will also post it on here.
- We had over a hundred people accept Jesus into their life this weekend! It was amazing!
- Leah has been in Cape Cod for the past five days. She was having a "girly" weekend with her sister.
- I'm in Boston right now hanging out with my parents, and am waiting for Leah to be dropped off.
- I set up my TWITTER to post a weekly "twitter re-cap" each week. It will make a blog post for me with all of that weeks "Tweets". I have brought my twitter to the next level.

- Have you checked out my Hillsong United videos yet? Scroll down to check them out.
- I will be posting every day this week! See you here!
Have you ever had one of those weeks where you thought it was going to be a regular week, but so many things just line up so it becomes the busiest week of your life? Well, that's what it seems like for me this week. Don't get me wrong, it's been  great week, but it's just been so busy. The picture does not reflect how I feel, I just liked it.

Here has been my week:
- Got back from Hillsong UNITED confernce at 5am on Sunday morning.
- Left at 9:30 am on Sunday morning to go to a family reunion in Vermont.
- Came back on Monday night…late.
- Worked all day Tuesday, then had to go buy a suit which took all night. Got home after 10pm.
- Worked all day Wednesday, then had an awesome adult leader meeting at the church.
- Worked all day Thursday, then went straight to the church for a REALLY AMAZING rehearsel with over 30 students for this weekend! Just wait! Don't miss church this weekend!
On the plate for the rest of the week and weekend: 
- Work all day today (Friday), then I have a wedding rehearsel at 5:30. Yep! I'm doing a wedding this weekend! Can't wait!
- Saturday, I am doing the wedding, and then going immediately to church (probably in my suit), to help organize our students.
- Sunday, I have church in the morning, and then it's off to Boston to pick up Leah, who is spending time in Cape Cod (for free) with her sister. Pray that I can get there in one piece and that my vehicular transportation stays in one piece.
That's my story! That's why I might not be blogging all that much this weekend! I will try though. I have some cool videos to post.
You can follow me all weekend on my Twitter page, or again, on the upper right side of this blog.
Here is video 2 of 3 from our Hillsong United trip! I have one more video to post later this week, as well as a bunch of other random video blogs!
Today, I am just focusing on some Hillsong United stuff. Here is some of what we learned, some thoughts, and some stuff that took place.
 Here we go:
- In the western world, we don't have a ton of physical poverty, but we do have an inner poverty. A lack of love.
- So many people in other countries lack what we in America take for granted, but so many Americans lack what they take for granted…LOVE!
- When you are making ground for God, someone else (the enemy) is losing ground.
- When you are not making ground for God, someone else (the enemy) is making ground.
- The enemy doesn't really care about the size of a church, he cares about it's influence.
- "If what we do inside the walls of our churches has no affect on the streets that we take to get there, then maybe we are doing things wrong." – Joel Houston
——————–
- I still have two more videos to post with Hillsong United footage!
- I also have a ton of footage for some more random blog videos.
- Did you check out the first video below?
- If I had to go to college all over again, then I would probable go to Hillsong College. Check it out!
———————
On a side note, don't miss this coming weekend at Northway Church! We are having a special weekend featuring our student ministry! I'll blog more about this later!