Archive for October, 2008
Over the past five years, the Red Sox have proven to be able to beat horrible odds.
In 2004, they came back from a 0-3 ALCS series against the Yankees to win the series.
In 2007, they came back from a 1-3 ALCS series to win.
Now, in 2008 they were down 1-3 against the Rays and won an amazing game last night.They were down 7-0 in the 7th inning and many of the Fenway faithful headed to the exits. Many people, including myself last night, turned off their TV or changed the channel to watch Dwight from the Office give birth to a watermelon. What did we miss? One of the great comebacks in playoff game history. The Red Sox came back to score eight runs and win the game!
Track Record!They have done that so many times in the past five years (especially now that the curse of the Bambino has been lifted

), but no matter what, many fans just give up when it seems like they are going to fail. Unbelievable!
Maybe they won't go on to the World Series…maybe they will…either way, I'm going to watch till the end.
I'm sure if we really wanted to, then we could find some spiritual application in the Red Sox ALCS stories.

How many of you would be honest and say that you gave up on them last night?(Red Sox fan or not) Raise your hand! (Or comment)
You can WASTE your life!
You can SPEND your life!
You can INVEST your life!
I'm sure we can all come up with ways to WASTE or SPEND our lives. I want to talk about INVESTing our lives.
Last night for UNITED, we split Middle School and High School and talked about INVESTing our lives. We can all be self-centered at times. We get in a zone where we don't care about anyone else but ourselves.
When someone asked Jesus, "what is the most important commandment of all?", Jesus replied by saying to LOVE GOD AND LOVE OTHERS! (Mark 12:28-31) The two are connected. Don't say that you love God if you don't love others. Jesus said that every law ever given can be summed up in LOVE GOD AND LOVE OTHERS. Also, the act of putting others before ourselves is the best way to let people see what being a Christian is all about! (John 13:34-35)
This is where INVESTing our lives comes into play. INVEST it into something that outlast it. Hmmmm…that's a cool thought. Right?
Read Matthew 25:14-30 where Jesus gives a parable about talents and investing your life.
Here is what we can grab from that:
1. Everything I have belongs to God.
2. God has given me some talents.
3. God expects me to use those talents. Someday he's going to ask me, "What did you do with what you were given?"
4. It is wrong to bury what God has given me.
5. Fear keeps me from using my talent. When you cut through all the excuses, it's fear that keeps you from using your talents.
6. If I don't use it, I'll lose it.
7. If I use it wisely, I'll be rewarded.
8. Whether we identify all of our talents right away or not, we can still do things to INVEST our lives.
I'm so proud of our students! Last night I asked the High School students about some ways that we can INVEST our lives, and they spoke right up. Two girls actually stood up and talked about a friend that is going through a rough spot due to a fire that broke out at their home. All of their possessions are lost.  The end result is that our students are going to help this student and her family by meeting some of their current needs. They are INVESTing.
If you would like to make a small donation towards a couple gift cards, then let me know! Anything we can do to INVEST in this family would be awesome!
Either way, what are you doing this week to INVEST your life for God?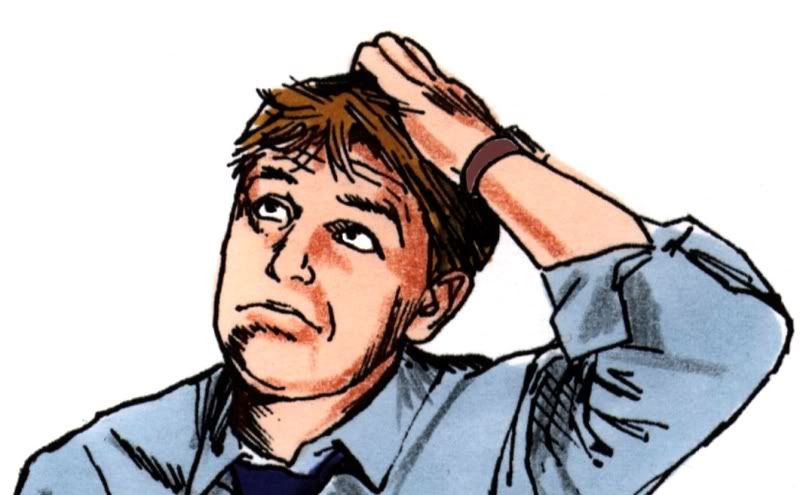 I am going to be started a new series of posts for my "Question From A Student" category very soon. I recently asked students to submit some more questions that they have about God, the Bible, and life in general.
Below is a list of some of the questions that were asked more than once. (The number represents how many times it was asked) Not all of them are listed. Some students submitted multiple questions.
- Why are we here on this earth? (16) (Also…What is my purpose?)
- Why does God love me? (8)
- Why do bad things happen to good people? (7)
- Once I have found who I am in this life, how do I stay true to God? (4)
-  Why hadn't God showed Himself to me until this past summer? (4)

- When will God come back? Am I safe? (6)
- Is the Bible really true? (7)
- Does God have a physical body? (3)
- What was God doing before He created the Universe? (2)
- Is it wrong to question God? (2)
- Why did God seem so evident in the Old Testament, but so distant today? (2)
- How long is eternal? (2)

- I am so lost. I do not know where to turn. What can I do to feel like I belong? (5)
- I accepted Jesus, so why am I still scared? (4)
- Why is it okay for God to demand that we worship Him? Isn't that a sin? (2)
- Why don't we always feel happy and reassured about our salvation? (4)
- I have tried to listen to God, but He won't speak to me. What can I do to hear him better? (4)
- Why does God care about me if I am just one of so many people in the Universe? How is that possible for Him? (5)
- Where did we come from? (7)
- Why doesn't God answer me when my family is in need? (2)

- When I read the Bible, where do I start? (2)
- How do I figure out God's will for my life? (6)
- Did God really create us? (4)

- Is there a way to become more devoted to Jesus, when I have so many distractions? (6)
- Am I going to heaven when I die? (4)
-  How can I make my dad love me? (2)
-  I have so many options after school for college. How do I choose? (2)
-  Is hell a real place? (3)

- What can I do to help at church? (3)
- How do I know that my boyfriend really loves me? (2) (Also girlfriend)

-  What advice do you have about dating? (8)
Anyway, this can give you an idea of what is being asked. I love it when students ask questions! There are many others that I didn't post.
My biggest concern is that I'm afraid that so many students are going to the wrong places to find their answers! We need to do our part as leaders and parents to find out what they are asking, and then give them answers from God's love letter to us – the Bible!
DO YOU HAVE A QUESTION ABOUT GOD, THE BIBLE, OR LIFE? Whether you're a student or adult, feel free to leave a comment. You can put "ANONYMOUS" as the name. You can also make up an email address as well!

- Didn't get to blog yesterday for obvious reasons…
- ED YOUNG was at Northway Church yesterday for the C3 conference!
- It was amazing seeing so many leaders from the Northeast come out to this event!
- Leah got to be Ed's green room assistant. She could probably care less, but I was like a kid in a candy shop.
- The worship team was incredible, the Northway VIP's were incredible, Ed was incredible, Chad and Deana were incredible with planning the whole thing!
- We were out from before sunrise until after sunset yesterday. I did not want to wake up to go to work this morning. I'm really really physically just tired.
- I got to go see Baby Avery last night at the hospital! She is beautiful! That was the highlight of the week! I still feel awkward around babies, but I'm warming up. Maybe I'll try holding her sometime. Do I have to sign a waiver?
- Leah's family came for the weekend. It was a lot of fun. We went to Bowman's Orchard and some other cool places. Another reason I'm tired though.

- URGENT PRAYER REQUEST: Please pray for the Red Sox to recover from their horribleness. I can't handle it anymore.
- It was exactly two years ago that Leah and I were visiting this area trying to find an apartment. I'll be blogging about our two year Upper State Anniversary soon. We moved here fifteen days later.
- UNITED is tomorrow night at 6:30 and we're splitting Middle School and High School. It is going to be awesome!
——————————————
I don't like to glory in other people's misfortune, but this is one of the greatest pictures of all time…
This one too…
This three day weekend is going to be crazy, but amazing!
Here are the main highlights…
- Brian and Libby are going to have their baby! Avery will enter our world! Check out their blogs and show them some love! Their updates and posts are like watching a month long movie!
- Leah's family is coming in for the weekend. The apartment is clean (well, it's always clean, which is a story for another day), the groceries are bought, and we are awaiting their arrival any minute! She has three young brothers so all the "cleanliness" will be in vein, but oh well. Any good ideas as to where we can take them?? Fall stuff??
- The Creative Church Conference (C3) with Ed Young is on Monday!!! I can't wait to connect with so many people that I know are coming! I honestly do not know why any leader in the Northeast would miss this! Actually, I don't know why any Christian in the Northeast would miss this. Check out a video HERE. Click the link! Click the link! Click the link! (Sorry…I have a twitch)
We all have baggage and junk in the trunk! Baggage is the stuff we carry through life that keeps us from being effective for God and truly living the life that He has for us. (John 10:10) It could be emotional pain, worry, fear, betrayal, peer pressure, religion, abuse, sin, and many more!! Sometimes we carry baggage that is not even our own fault! For instance, many students are carrying baggage because their parent is trying to live out their dreams through his/her kids!
Either way…the question for this post is this:
WHY DO I STILL FEEL WEIGHED DOWN AND BURDENED ABOUT MY PAST EVEN THOUGH I HAVE GIVEN MY LIFE TO GOD? 
This is a question that most Christians ask many times through their journey of following Christ! I know I've asked it many times.
When we cross that line, and accept what Jesus did for us on the cross, then He forgives us and takes our sin away. (1 John 1:9) Right? Well, then why does a little bit of time go by and then I feel the pain and guilt again? You feel like the baggage is right back where it was before.  You read verses like Matthew 11:28-30 (see previous post) and then feel discouraged because you feel like the application of those verses don't help you.
ANSWER:
Once you accept Jesus into your life, He does forgive you and takes that sin and moves it as far from us as the east is from the west. (Psalm 103:12) You can't get farther than that! You then know that you will spend an eternity with Him and that nothing we ever do can take that away! Do we still sin and need to ask for forgiveness? YES.
Here is the problem, we receive God's forgiveness so willingly and openly, but we don't receive our own forgiveness! We don't forgive ourselves! When we sin, God will forgive us, but we still have to live with the consequences of our sin. We have a problem many times getting rid of the guilt and shame for the things that we have done, or for the things that were done to us.  God says to give that to Him as well! (1 Peter 5:6-10) The enemy wants us to believe a lie and he will try to bring up the "old stuff" in an effort to make us ineffective!
 Here are a couple of thoughts and verses that can help:
- When God forgives us "He remembers our sin no more". (Jeremiah 31:34)
- When the old sins come into your mind and you start feeling guilty, KNOW that that is not from God.
- Continually renew your mind! (Romans 12:1-5)
- Continually praise God for what He has done for you. (Philippians 4:8)
- Remembering our own sins is only beneficial when it reminds us of the extent of God's forgiveness and makes it easier to forgive others. (Matthew 18:21:35)
-  The next time your old junk comes into your mind, CHANGE THE CHANNEL. Start to thank God right then and there for his mercy.
- For some, they need to forgive someone who hurt them or betrayed them in order to be freed from the baggage! Let them be accountable to God, and don't let that ruin you!
UNITED and UNITED LIVE is growing with each event! Many students start coming right after school and are staying til the very end when I'm kicking them out on the curb. It's awesome!
I had the pleasure of speaking last night at UNITED LIVE! Since camp, I've been burdened about all of the baggage that students carry. Adults too! PEER PRESSURE – EMOTIONAL PAIN – BETRAYAL – FAMILY CRISIS – WORRY – SIN. You name it, and it's something that students are dealing with. 
We all start out our lives with everyone loving us caring for us. Everyone thinks your just adorable. Then…all of a sudden, someone says "I don't like you" or "You're stupid" "You're worthless". Someone that you trust betrays you. The sin in your life starts spiraling out of control. We are left carrying baggage. Baggage is the stuff that is keeping us from being effective for God. We all have baggage. You do. I do.
So what do we do? We try to just conform. We ignore it and just accept the weight as just being what your life is all about.
You start walking around thinking…"I'm not good enough" "No one loves me" "I can never trust anyone ever again" "My life is messed up" "I can never have God's best for me".
At that point, we either go in one of two directions.
1. We believe a lie and self-medicate to cover or ignore the baggage. This is where cutting, alcohol abuse, drugs, bad attitudes etc… come in! Nothing ends up working and you are left with this weight and you can't handle it anymore. You are ready to BLOW UP!
We scream…WHERE IS GOD? WHY HAS HE FORSAKEN ME? I GAVE MY LIFE TO GOD BUT I'M STILL CARRYING THIS WEIGHT AND BURDEN. I CAN'T GO ON LIKE THIS!
2. We seek truth.
God has been saying all along, "Are you tired? Worn out? Come to me. Get away with me and you'll recover yur life. I'll show you how to take a real rest. Walk with me and work with me…watch how I do it. Learn the unforced rythms of grace. I won't lay anything heavy or ill-fitting on you. Keep company with me and you'll learn to live FREELY and LIGHTLY!! (Matthew 11:28-30)
God is telling us that he wants to take our baggage and give you the life that you can only have through Him! Jesus said, "The thief is there to steal, kill, and destroy. I came so they can have real and eternal life, more and better life than they ever dreamed of. (John 10:10) 
Now you can scream…I DON'T HAVE TO LIVE THAT LIFE! I AM NOT WHO THEY SAY I AM, I AM WHO GOD SAYS I AM! I'M NOT GOING TO BELIEVE THE ENEMIES LIES, I'M GOING TO BELIEVE TRUTH! I'M NOT GOING TO BE AFRAID ANYMORE! I CAN KEEP MY HEAD UP HIGH!
God's grace reaches to the darkest places of our lives.
What is your baggage? Are you willing to let it fall so you can live freely and lightly?
Tomorrow, I'm going to write about why so many Christians still have this weight even though they have accepted Christ.
- I love the the Fall!
- All of the trees around where we live seem to have lost their leaves without ever changing colors. Hmmm.
- I'm doing Pilates with this lady as much as I can. I felt weird at first, but now I'm realizing that real men do Pilates. Don't make fun of me though…I'm sensitive.

- As of a year ago the only Pilate I knew was Pontius. (That was corny) I also didn't know it was pronounced "pill-ahh-tay". I felt stupid after I asked for "pie-lits" at Target.
- It's amazing how much energy it can give you right away. I just don't want to be able to rest a tray on my abdomen when I sit down any more.
- UNITED LIVE is this Wednesday night at 6:30!!! (Thought I would squeeze that in here)
- Leah's birthday was on Friday!
- We went for a drive, ate pie, watched a movie, ate more pie, almost burned the house down with trick candles (didn't know they sparked so much), hung a mirror, hung a curtain, ate even more pie, and of course opened presents!
- Had a great creative meeting with some High School students after church!
- God has blessed us with some amazing students that are stepping up to lead the way! I'm so proud of them!
- I'm off to Boston for two days to attend a national camp planning meeting for our High School camp. Yes! It's time to plan for camp already!
- Bringing 130 students in 2008 was amazing, but let's see if we can bring 300 students in 2009! No reason not to! 400?
- I hope Brian and Libby wait until I get back from Boston to have their baby Avery! If you guys are reading this, I will offer you a $10 Starbucks gift card to wait a couple more days! Can't beat that! Pleeeeeaaaaase?
- Did I mention that UNITED LIVE for Middle School and High School students is this Wednesday? Yeah? Ok…just checking.
In honor of another fine season in Red Sox baseball, I have decided to post this video that I compiled a few years ago (shortly after the 2004 World Series).
The 2004 World Series was crazy! The Red Sox won their first one in 234 years (or so it seemed). Throughout that season, there were over fifteen players on the Red Sox that were strong Christians. They would pray and have a devotion together daily. Anyway, after that World Series victory, they made a video called Reversing the Curse, which featured their testimonies regarding baseball and their faith. At the end of that video, the players led the viewers through a prayer of salvation. This video is some clips from that presentation.
For you guys that are Yankee fans, I have added a short clip about Andy Pettite and his faith. Also, there is a clip about J.D. Drew who is now on the Red Sox.
Some other players featured are: Curt Schilling, Jason Varitek, Bill Mueller, Mike Timlin, Trot Nixon, and Tim Wakefield.
Check this video out! (Ignore the "amateurishness" of it)

That's right!
Today is Leah's birthday.
She turned 26 this morning around 9:38. She is now old enough to save even more on car insurance (without having to switch to Geico).
Anyway, she is amazing! We have been together now for eight years (married for over two) now. It's been the best eight years of my life. Our relationship has survived over three years of living apart, moving six times, and getting through college before we got married. Today we are living our dream of being together. She is my best friend!
We are spending the entire day together! She and I, me and she, her and me. I bought her a "birthday girl" ribbon that I pinned to her shirt while she was sleeping. I'm making her wear all day long. So that she doesn't feel too awkward, I bought myself a "birthday boy" one to wear as well.
See you soon!