———————————————————–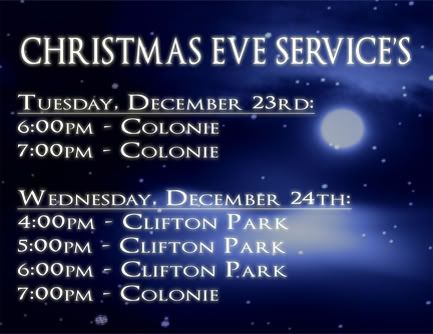 Don't miss Christmas Eve with Northway Church!
———————————————————–
We have officially hit the week of Christmas (well, I guess we technically did yesterday). This is the time that most people start to stress out if they haven't already.
What gifts do I have left to buy? How much more food do I need? Am I forgetting someone? Is it going to be safe to travel? How can I just "keep the peace" when the relatives arrive? Have I remembered to check Kevin's blog everyday? etc…
This is the week that, for many, begins to turn Christmas into more of a burden than a celebration. Many people have the best intentions leading up to Christmas, but something happens right about this time. They begin to loose focus on what's important.
Leah and I have had fun doing this whole "Christmas blog" thing. We have spent a lot of time together. It has forced us to turn the TV off, and just focus on each other. This week is going to be different. We have something going on every single night, along with a full work week (minus Christmas day). We still have to finish Christmas shopping, buy a couple Christmas Butt Hams, and plan a ton of things.
For me, this is the worst possible week to be in sales. No business owner cares about their advertising campaign this week (or next week for that matter either), but I have to try to cram a full work week into just a few days.
If Leah and I are not careful, Christmas can quickly become a burden instead of a celebration! Believe me, we have already seen signs of it becoming a burden, but we are determined to focus on what is important.
What about you? Is Christmas this year a burden or celebration? Are you more focused on the small details of pleasing everyone around you, or are you focusing on what is truly important at Christmas time?
I will be blogging about this more this week, but for now, where do you need to MOVE YOUR CHAIR?
—————————————————————
Later today, I will post the "trailer" to a movie that I think is perfect to watch every Christmas. No, it's not a comedy or even a classic Christmas movie. 
—————————————————————
We have a video to post tomorrow that was "forgotten" about! We made a Christmas decorating video and totally forgot to post it. We can't let that slide! Come back tomorrow to see it!
2 Responses to "Day 22a: Is Christmas a Burden or Celebration?"